Tequisquiapan - The Gateway to the Sierra Gorda
Tequisquiapan is famous for its thermal hot springs, and for being the center of the wine and cheese area, and is becoming a popular tourist destination for Mexico City and Queretaro residents, as well as a holiday destination for many Europeans. Its mild climate and colonial winding streets make it ideal for leisure trips.


The village has a very picturesque Spanish style plaza with many good restaurants that serve the local wines. There are also some very nice wine and cheese bars, where one can sample local cheeses paired with the local wines.


Walk around and explore the tranquil cobblestone streets, remarkable colonial Mexican architecture, the lush vegetation and landscapes, along with the hospitality and courteous attention of the people of Tequis. A patchwork of small, irregular, interlocking stone blocks pave the narrow streets leading to the central plaza. Traffic is closed a block or two from it, creating a pedestrian zone. Scattered throughout the city are several hotels with their own springs.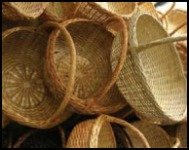 Surrounding the Plaza de Tequisquiapan is a marketplace where visitors can admire and buy locally produced wicker. Tequisquiapan is quite a tourism center, known for wine, festivals, and thermal water spas and is a very popular destination among the people in the central region of Mexico.




Select souvenirs from the town's beautiful handcrafted baskets and jewelry made with semi-precious stones. The village of Tequisquiapan has an annual wine & cheese festival at the end of May.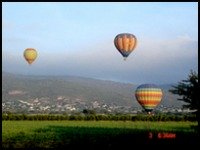 Other places of interest to visit and activities in Tequisquiapan:
The Cheese and Wine Museum of Tequisquiapan offers the visitor a tour through the history and tradition of these two very important industries of the region.
Yextho Hacienda A beautiful place of gardens and natural vegetation.
Quinta Schmoll (Cactus Greenhouse) This place is a preserve which contains many American and African species.
Opal deposits in the region are the best known in the country. Beautiful opals of different textures, shapes, sizes, and colors have been found in mines such as La Carbonera, La Esperanza, El Iris, and El Rendon.


Link to Hot Air Balloon Ride Web Site

Link to Organized Tours of Tequisquiapan and the Surrounding Wineries


Where to Stay in Tequisquiapan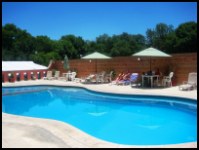 HOTEL DEL PARQUE This hotel is located 2 blocks from the city center. All rooms have thermal water bathtubs or Jacuzzis. Buffet breakfast included. Address: Cerrada de Camelinas 2, Centro. Phone: +52 (414) 273-2939 / 273-0938 Link to hotel web site


HOTEL EL RELOX is a friendly, safe, affordable, unique retreat in colonial Mexico. For over 80 years, guests have traveled to the quaint small town, Tequisquiapan, to enjoy the warm mineral waters for their health and enjoyment. The 110-room facility is quiet with simple charms and secluded coves. The original entryway dating from 1870 leads to eight suites with very individualistic features overlooking placid cobblestone streets. Courtyard rooms look into a multicolored garden where you can easily access the health spa. Promotional packages include use of pools, fitness center; three meals prepared daily on the premises, taxes, gratuities. The mineral waters have drawn visitors year after year seeking health and tranquility. At El Relox, bathing is available year round. The gardens lead you to three sparkling pools with plantings of yuccas, cypresses and fountains. Water is pure with a variety of jet streams providing hydro-massage, heightening your state of relaxation. Alternatively, immerse yourself in one of the 17 spacious thermal baths. All rooms have vaulted ceilings allowing natural light to brighten up your experience. The water temperature averages 80 degrees F and the natural mineral content includes sulfates, nitrates, and carbonates. Address:José María Morelos Poniente 8, Centro. Phone: +52 (414) 273-0006 / 273-1137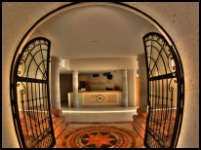 HOTEL REAL TX A tastefully decorated contemporary hotel with 9 standard rooms and 8 suites with TV and cable, telephone, work desk, some with balcony. Restaurant, bar, pool, boutique, wireless internet, and free parking. Address: Salitrillo 89. 10 minutes to the city center. Phone: +52 (414) 273-0084. Link to hotel web site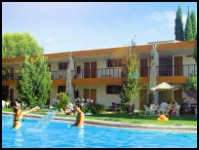 HOTEL RIO TEQUISQUIAPAN is a contemporary property which features many decorative details of the region with 56 guestrooms, each featuring a good selection of amenities and gorgeous views of the gardens. The hotel's restaurant, La Flor de Queretaro, is an excellent place to enjoy a great variety of dishes for breakfast, lunch, and dinner. Hotel Rio is located in the downtown area of Tequisquiapan, 40 minutes from downtown Queretaro. The hotel is 20 minutes from La Pena de Bernal, 10 minutes from Las Cavas de Freixenet (Freixenet Winery) and 15 minutes from the quaint village of San Juan del Rio. The airport is about 30 minutes away. Link to hotel web site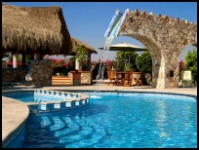 HOTEL HACIENDA TRES VIDAS is a hotel-spa that offers a quiet atmosphere, perfect to recover one's physical, emotional and spiritual balance set on an ancient hacienda. The hotel features 21 rooms and suites that blend baroque and colonial styles, all adorned with traditional Mexican details, such as handmade mahogany furnishings, quarry stone fountains, antique paintings and ceramic objects. The rooms are equipped with satellite TV, telephone, bathrobes and slippers, hairdryers, and other amenities. This property features a variety of services for a wonderful stay, including a relaxing outdoor pool, a gym, and complimentary wireless internet access as well as a full-service spa with hydrotherapy, body treatments and facials. Near the hotel there are several outdoor recreational activities available, such as dune buggy riding, ATVs, and paintball. The hotel has a restaurant where you can enjoy an a-la-carte breakfast, lunch and dinner. Enjoy contemporary Mexican cuisine with an international touch. The Hacienda Tres Vidas also has two bars that offer drinks at the pool and in the spa area. The hotel is only 50 minutes away from the city of Queretaro, 80 minutes from San Miguel de Allende, and about two hours from Mexico City International Airport. Address:Sor Juana I. de la Cruz 75 La Laja. Phone: +52 (414) 291-8000.


HOTEL LA RICONDA TEQUISQUIAPAN started operating in 1987, and was totally remodeled in 2008. The hotel offers 35 guestrooms classified as Villas for 6 and Villas for 8. All rooms feature king size beds and fully equipped kitchens. The facilities feature swimming pool with snack bar, children's pool, work out equipment, tennis, basketball, tennis and volleyball courts, pool tables. and ping pong table. Free Internet access, as well as a free on-site parking lot are offered, as well. The hotel is located in the downtown area of Tequisquiapan. Address: Juárez 19 Ote. Col. Centro. Phone: +52 (414) 273-0459. Link to hotel web site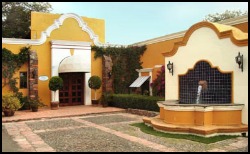 HOTEL VILLA ANTIGUA TEQUISQUIAPAN offers a fantastic vacation with family or friends. Each bedroom is equipped with exclusive amenities and features elegant decor. Surrounded by beautiful gardens, the facilities are perfect for hosting social events or business meetings. The hotel's restaurant serves a selection of regional specialties. The hotel has three different types of rooms in order to suit the needs of all guests. The spacious suites also come equipped with a relaxing Jacuzzi. Other facilities and services include a pool table, board games, a swimming pool and a tennis court. The hotel's restaurant offers a large selection of international dishes and Mexican cuisine. Each morning enjoy breakfast which is served on the outdoor terrace. The bar offers a variety of beverages and has a comfortable atmosphere. Address: Carr. Tequisquiapan - San Juan del Río Km. 11.6. Phone: +52 (414) 273-3382 / 273-3344. Link to hotel web site


HOTEL VILLA FLORENCIA TEQUISQUIAPAN is set on an estate surrounded by gardens, exotic birds and an elegant architectural mixture. This property has both outdoor and indoor pools, a spa with jacuzzi and vapor bath, and a top-level restaurant and lounge bar. The 22 rooms of the hotel are individually decorated. The restaurant offers international specialties served in an elegant environment. At night, stop into the Rouge Lounge Bar that offers wines, liquors, cocktails and the rhythm of good music. Address: Nauthá 6, Centro. Phone: +52 (414) 273-3029. Link to hotel web site


Brief History of Tequisquiapan
Tequisquiapan has almost five hundred years of recorded history. Before the arrival of Spanish conquistadors, the area now occupied by what is now the town of Tequisquiapan was commonly known as "Tequesquiatlapan" which means river of carbonated water. Recent studies indicate that the first human occupation of these lands goes back between 6000 and 4000 years. Through analysis of pictographs (Indigenous cave paintings) it is clear that these inhabitants were nomadic hunter-gatherers and sedentary groups who were wholly or partially dependent on agriculture.
In 1551, Tequisquiapan was founded in a relatively flat area of small valleys occupied by Otomi and Chichimeca indigenous people. The first settlers chose this territory for the fertility of the lowlands and the hot spring waters, the exuberant vegetation, as well as the great variety of fruit trees, making it an ideal place for settlement.
For much of the prehistoric period, the valley of Tequisquiapan was more than a village. The great Chichimecas Nahua and chieftains acknowledged the importance of place. According to the local chronicler Landaverde Jesus Chavez, the lords of Jilotepec visited the natural springs of Tequisquiapan only on very special occasions. Upon arrival, they would take a dip in the hot springs and deal with affairs of state and resolve minor disputes among themselves.
Upon the arrival of the Spaniards, the territory was evangelized peacefully by missionaries with help from the Otomi people, while the Chichimeca resistance to this evangelism lasted for another 200 years. The first Spanish settlements in the valley date from the 16th century, when Don Luis de Velazco, then viceroy of New Spain, granted the rights of settlers to the valley to raise cattle and maintain the stables. At the end of this era, an historic event was marked by the Battle of Cerro de la Media Luna of the Sierra Gorda of Queretaro which ended the Chichimeca rule.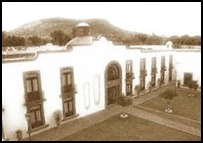 When the conflicts ended, different haciendas and ranches went through an intense economic development period.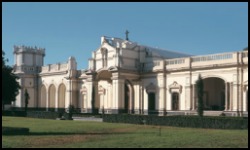 Some of the best examples of these haciendas remain today and operate as hotels in and around the picturesque town of San Juan Del Rio, (just a 20 minute drive from Tequisquiapan): San Gil Hacienda, Galindo Hacienda, La Venta Hacienda, and La Llave Hacienda.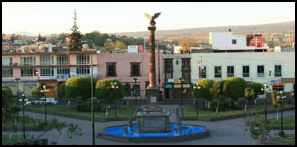 San Juan del Rio has numerous colonial buildings, elaborate churches, lavish casonas (colonial homes), and attractive plazas. The resulting redistribution of these properties and other assets (mainly at the hands of the conquistadors) and the exploitation of the indigenous people resulted in a series of insurgencies during the Mexican War of Independence.
Afterwards, there is no record, historic or otherwise, until 1920, when there was a change in power of the State of Queretaro. The political center was moved from the city of Queretaro and transferred temporarily to Tequisquiapan.
In 2003, UNESCO declared the Franciscan missions of Sierra Gorda of Querétaro as a World Heritage Site.


Return to Sierra Gorda Main Page

Return to Queretaro Main Page

Return to San Miguel Day Trips Page

Return to San Miguel Main Page

Return to Best of Mexico Travel Home Page