Sierra Gorda Region - a Short Trip from Queretaro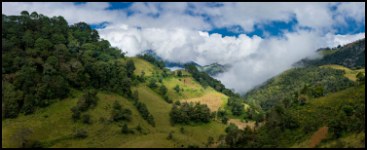 During your visit to Queretaro, why not plan a couple of days in the Sierra Gorda. The fauna and flora have spread throughout its summits, rivers and valleys with an exceptional fertility. The scenic topography represents many of the ecosystems in the country, from desert to woods.
The Sierra Gorda is more than just the sum of its parts; this means that the magnificence of its natural attractions comes out as a group of rivers, waterfalls, pits, caves and mountains that make the most heterogeneous zone in the country.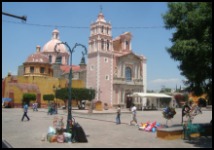 If you decide to make it an overnight, a great place to stay would be in Tequisquiapan, a beautiful village about 30 minutes outside of Querétaro and considered the gateway to the wine region.
The village has a very picturesque Spanish style plaza with many good restaurants that serve the local wines. There are also some very nice wine and cheese bars, where one can sample local cheeses paired with the local wines.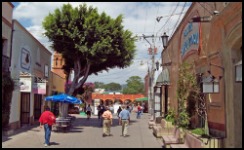 Walk around and explore the tranquil cobblestone streets, remarkable colonial Mexican architecture, the lush vegetation and landscapes, along with the hospitality and courteous attention of the people of Tequis. A patchwork of small, irregular, interlocking stone blocks pave Tequisquiapan's narrow streets leading to the central plaza. Traffic is closed a block or two from it, creating a pedestrian zone. Scattered throughout the city are several hotels with their own springs.

Surrounding the Plaza de Tequisquiapan is a marketplace where visitors can admire and buy locally produced wicker. Tequisquiapan is quite a tourism center, known for wine, festivals, and thermal water spas and is a very popular destination among the people in the central region of Mexico.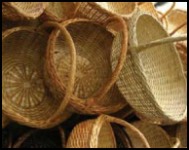 Select souvenirs from the town's beautiful handcrafted baskets and jewelry made with semi-precious stones. The village of Tequisquiapan has an annual wine & cheese festival at the end of May.


Click here to go to our Tequisquiapan web page



Here are some ideas for your visit to the Sierra Gorda:
Make a mini tour of the the wineries and cheese factories in this beautiful and historic region. Travel along the state's Ruta del Vino (Wine Route), which connects three significant vineyards of Freixenet, Los Aztecas, and La Redonda, along with myriad of cheese manufacturing facilities.This region has been blessed with an excellent climate and fertile land, allowing them to produce really outstanding products.

The two largest wineries of the region, La Redonda and Cavas Freixenet, offer free tours, on a daily basis, so you can learn more about the age-old process of wine making and also get to taste a few of Queretaro's wonderful wines.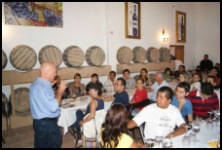 Along the wine route, your first stop would be La Redonda Wineries, about a 15 minute trip from Tequisquiapan.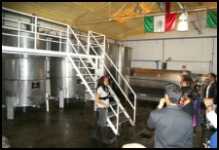 The winery has free tours once a day during the week and every hour on the weekend. They plant Cabernet, Merlot, Malbec, Pinot Noir, a local grape called Salvador and just started planting Tempranillo, which is not yet offered to the public. Their 2004 Malbec-Cabernet called Orlandi is pretty good; they also make some very good sparkling wine, which they produce using the "Methode Champenoise". The winery is owned by an Italian family, they offer Italian food on the weekends. Link to La Redonda Winery Web Page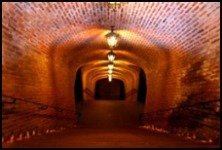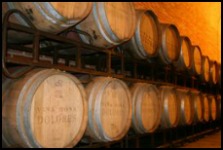 Next stop is Freixenet of Mexico, a 5 minute drive from La Redonda. This winery is a Mexican subidiary of the Spanish company. Freixenet also offers a free tour, where one can visit the deepest cavas in the Americas (82 feet). They also produce the sparkling wines (cavas) following the methode champenoise. Freixenet also has their own winebar in Tequisquiapan, where they offer Freixenet wines from all over the world.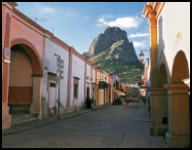 The small village of Villa de San Sebastián Bernal (better known as Bernal) is included on the Wine Route, just for its charm. Bernal, is a tiny picturesque village 20 minutes north of Tequisquiapan. This town is classified in Spanish as a "Pueblo Magico" (Magic Town), an award given by the Mexican Government in 2005. The town was founded in the 17th century. Now it is a place that offers several attractions to the thousands of tourists that come here every year to visit.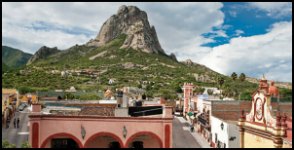 Attractions include Pena de Bernal and beautiful colonial buildings such as El Castillo, De las Animas Chapel, De la Santa Cruz Chapel, and the Temple de San Sebastian Martir. The tranquil streets and green landscape will give you a real flavor of colonial Mexico. The delicious regional gastronomy, in the several small local restaurants, is definitely worth trying, but especially at the Mercado Artesanal y Gastronomico (Artisan and Gastronomic Market). There are also an excellent variety of handcrafts, such as woolen clothing, ceramics and wooden pieces.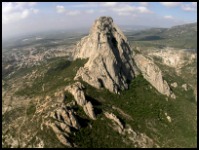 At the peak of San Bernal, stands a gigantic rock monolith of 350 meters in height, the third highest in the world after the Rock of Gibraltar and Sugarloaf Mountain Rio de Janeiro. Legends say that this rock gives the city's inhabitants a long life, as the average life expectancy of Bernal residents is said to be a staggering 94.7 years.
Click here to go to our Bernal web page


Sierra Gorda Biosphere Reserve

Visit the Sierra Gordo Biosphere area where you can find historical sites, activities and adventures for people of all levels of interest and fitness. The Sierra Gorda Biosphere Reserve emerged from a presidential decree granted on May 19, 1997 with the purpose of protecting the Reserve's exceptional richness of species and ecosystems. The Reserve is managed by the National Commission of Natural Protected Areas (CONANP) of the Ministry of Environment and Natural Resources (SEMARNAT).

The Biosphere Reserve covers 383,567 hectares of the state of Querétaro, representing 32 percent of the state's territory. The Reserve contains 11 core protected areas that cover 24,803 hectares and a buffer zone with 358,764 hectares. The Reserve contains all of the municipalities of Jalpan de Serra, Arroyo Seco, and Landa de Matamoros, as well as 88 percent of Pinal de Amoles and 70 percent of Peñamiller. The Reserve has approximately 100,000 citizens living in 638 localities.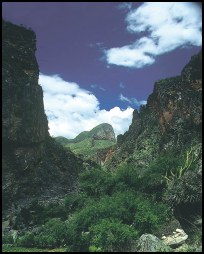 Among all the natural protected areas in Mexico, the Sierra Gorda Biosphere Reserve occupies first place for its eco-diversity due to its geographic position at the meeting point of the Nearctic and Neotropical bioregions. The Reserve is made up of great physiographic complexity, with altitudes ranging from 300 meters above sea level in the canyon of the Santa María River in the municipality of Jalpan de Serra, to 3,100 meters above sea level at the summit of the Cerro de la Pingüica, found in the municipality of Pinal de Amoles.
This physiological complexity, combined with a heterogeneous precipitation pattern, ranging from 350 to 2,000 mm per year, generates numerous climate variations. The strong variation in rain patterns is a result of rain shadows created by the mountain ranges of the Sierra Gorda.
Ecotourism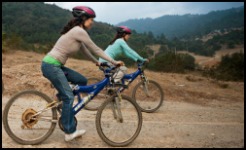 The focal point of ecotourism adventures in the Sierra in the Sierra Gorda is the town of Peñamiller. Adventure Activities include: Hiking, camping, bird watching, swimming, mountain biking and, depending on which zone you are visiting.
Link to Ecotourism web page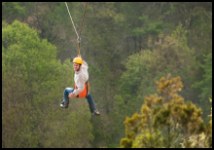 There are several ecological groups which organize tours that take the traveler to the sacred and most special sites in the Sierra Gorda. A few of the more popular tour operators are:




Sierra Gorda Ecotours The company offers 12 ecocamps and packages all year round. Address:Av. La Presa s/n, Jalpan de Serra (442) 212-3267. You can also find Sierra Gorda Ecotours in Querétaro Address:Carlos Septién García No. 46, Phone: (442) 212-4777 email:info@sierragorda.net or ecotours@sierragorda.net
Descubre Turismo Alternativo Address:Río de la Loza No.6, interior 3, Col. Centro Histórico, Queretaro. Phone:(442) 212-4565 Business hours:9:30 AM to 7:00 PM.
Culture, adventure and legends tours in Queretaro, Bernal, San Joaquin, Peñamiller, Pinal de Amoles and the Sierra Gorda. EXXI CHALLENGE MÉXICO Address:Prol. Av. Tecnológico 801, 3rd floor #12, Plaza Borregos Tec, Queretaro. Phone:(442) 225-2640 Cell Phone: +52 (1) (442) 364-8179
Sierraventura México Address:Ramiro de Maetzu No.58, Querétaro. Phone:(442) 182-4876



Another popular attraction in this area is El Oasis, a natural rural water park supplied by crystalline water from a spring located 650 feet away. Its water, propelled by gravity, fills the pools from where one can admire the imposing surrounding mountains. It is worth mentioning that these Chichimeca lands are known for the healing attributes of the springs, knowledge of which goes back centuries.
How to find it: Traveling on Federal Highway 57 México-Querétaro, take the exit to the Sierra Gorda, merging on to Federal Highway 120 San Juan del Río-Xilitla. You will pass by Ezequiel Montes, Cadereyta, Vizarrón and Peña Blanca. Right after this last town, take the exit on the left towards Peñamiller. Before arriving to Peñamiller and 0.6 miles (1 Km) before Peña Blanca, at Adjuntas de Higueras, you will find El Oasis on your right.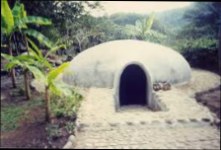 In the past, people would take baths in temascales (small structures made of stones similar to a brick oven), which were constructed next to the springs. El Oasis is open almost 24 hours a day, every day of the year. On the shore, one can enjoy a delicious fried fish dish, raised and freshly harvested on-site. It is also possible to camp or stay at one of the cabins. For more information, call: +52 1 (221) 122-3355.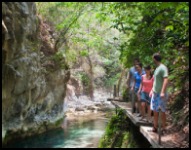 Paradise Canyon This marvelous natural attraction is located almost two miles from the town of Peñamiller. Due to the Extoraz River's current, a 328 ft high canyon has formed, framed by black marble walls. Exploring the zone is an unforgettable experience, including seeing ancient rock paintings left there by its former inhabitants: the Chichimecas.


Sierra Gorda Biosphere - Home to the Franciscan Missions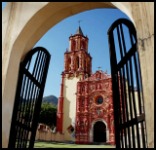 The Sierra Gorda is also home to the Franciscan Missions, a UNESCO World Heritage site. Take the "Missions Tour" to view ancient, ornate missions and churches built by Franciscan monks. Tour the The five Franciscan Missions which symbolize the last phase of the Mexican evangelization. Because of their proximity to each other, the missions have been maintained in a prodigious state of preservation.


Click here to go to our Franciscan Missions of the Sierra Gorda Web Page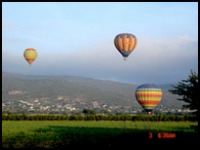 Other places of interest to visit and activities in Tequisquiapan:
The Cheese and Wine Museum of Tequisquiapan offers the visitor a tour through the history and tradition of these two very important industries of the region.
Yextho Hacienda A beautiful place of gardens and natural vegetation.
Quinta Schmoll (Cactus Greenhouse) This place preserves many American and African species.
Opal deposits in the region are the best known in the country. Beautiful opals of different textures, shapes, sizes, and colors have been found in mines such as La Carbonera, La Esperanza, El Iris, and El Rendon.
Hot Air Balloon Ride link: http://www.vuelaenglobo.com/
Link to Organized Tours of Tequisquiapan and the surrounding wineries: http://www.tequis.info/viajesyenoturismo/


Return to Queretaro Main Page

Return to San Miguel Day Trips Page

Return to San Miguel Main Page

Return to Best of Mexico Main Page