Guanajuato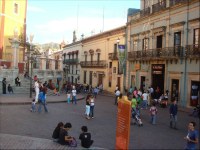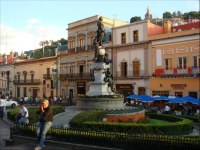 Guanajuato was built in the colonial era during the mining boom between the 16th and 18th centuries and declared a World Heritage Site by UNESCO in 1988.

The city's Historic Center will impress you with its civic and religious buildings. The city, cultural capital of the Bajio region in central Mexico, is one of the most charming destinations in the nation.
The city is located in a narrow valley, which makes the streets narrow and winding. Most are alleys that cars cannot pass through, and some are long sets of stairs up the mountainsides.



During your visit, you'll see excellent examples of New Spain Baroque art on such edifices as the Basilica Señora de Guanajuato, the Templo de San Diego, the Alhondiga de Granaditas (a grain depository) and the Monumento al Pipila.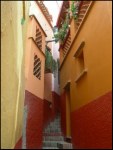 The buildings take you back in time to the glorious independence era. As you walk down the streets and alleyways, you'll come across spots that have inspired the creation of myths and legends, such as the famous Callejon del Beso (Alley of the Kiss).









You'll also be able to walk through underground tunnels that connect one side of the city to the other.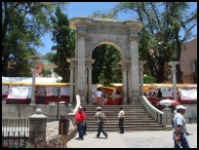 At the plazas and fountains, you can enjoy the tranquility that you'll find at such places as the Baratillo, where you can buy the finest regional crafts.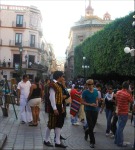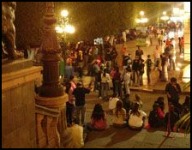 Strolling the town square is always an experience.
Don't miss Guanajuato at night. Learn more by clicking the link below:


Go to Guanajuato At Night page


Various cultural events also take place in the squares and streets, such as the International Cervantes Festival, which brings together many artists of diverse cultural and artistic disciplines from the world over.


The annual Cervantino International Festival honors Spanish writer Miguel de Cervantes. This festival promotes cultural, artistic and humanistic understanding between people by inviting other countries and states, which in turn present dance, opera, theater, and musical events, as well as art exhibits.
The festival lasts several weeks on different stages and halls throughout the city and has recently expanded to include venues in San Miguel de Allende.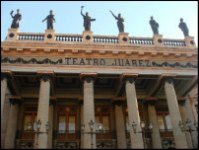 Some of these events are held at the beautiful Teatro Juarez, the city's most famous and important venue.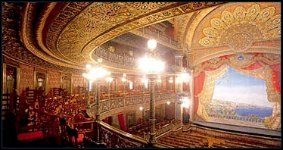 The "Cervantino", as it is widely known, is nowadays the most important cultural event in Mexico and one of the most outstanding festivals in the Americas, attracting spectators from all around the world.

Click here to go to Festival Cervantino Web Page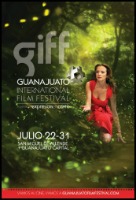 GUANAJUATO INTERNATIONAL FILM FESTIVAL (GIFF) Held each year in July with participants from Mexico and abroad, the film festival activities include film presentations, workshops, talks, roundtable discussions and work meetings by and with important figures in the Mexican and international film industries, including actors and actresses, directors, producers and screenwriters. Its fundamental objective is to present the visions of a new generation of film, video and documentary artists, in order to encourage them, promote their development and help connect them to production and distribution companies and personalities in the film industry. It is a completely free event, and contains work done by young artists as well as by well-known figures in the entertainment industry.
Go to Guanajuato International Film Festival Web Page


Guanajuato's history could easily be told by visiting its old buildings, the very edifices that have become many of the city's museums, which maintain and preserve regional culture.


Click here to go to Architecture and Historical Sites


Museums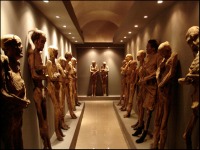 THE MUMMY MUSEUM Here you'll discover the secrets and mysteries of the mummification process. This extraordinary museum has more than 100 mummies on display. Some of the corpses that were buried alive still have a look of horror on their faces. Open daily from 9:00 to 6:00, you will discover bodies of mummified women, men and children whose bodies were exhumed between 1865 and 1989.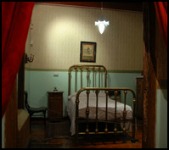 CASA MUSEO DIEGO RIVERA This 18th-century house was the birthplace and residence of famed Mexican muralist Diego Rivera. On display is a collection of works from various periods of the artist's career. You'll also see 19th-century furniture that belonged to the Rivera family, as well as temporary exhibits. Located at 47 Positos Street and open Tuesday through Saturday from 10:00 to 7:00.

Artists
Guanajuato is home or place of origin of three important painters: Diego Rivera, José Chávez Morado and Olga Costa.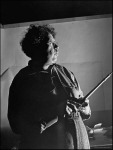 DIEGO RIVERA was born in the city of Guanajuato and spent his early childhood there. When he was older, he moved to Mexico City to study painting and eventually became one of Mexico's most famous muralists.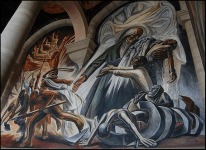 José Chávez Morado was a prolific painter who lived and worked here. He initially worked with José Clemente Orozco, who impressed him both with art as well as politics. Chávez Morado's most prolific period was between 1955 and 1967, when he completed works for the Ciudad Universitaria in Mexico City, the Communications and Transportation Building in Mexico City and the Alhóndiga de Granaditas in his hometown.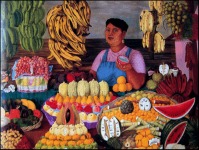 Olga Costa's real last name was Kostakowsky, but it was Hispanicized to Costa. She was born in Leipzig, Germany but she and her family moved to Mexico when she was very young. She was friends with and contemporaries of Diego Rivera, Frida Kahlo, Rufino Tamayo and Carlos Mérida, as well as wife to José Chávez Morado. She is best known for founding the Galería Espiral and co-founder of the Sociedad de Arte Moderno and the Salon de Plastica Mexicana. Her best known work is titled "Vendedora de Frutas."


Return to San Miguel Day Trips

Return to San Miguel Main Page

Return to best-of-mexico-travel.com Home Page