Queretaro Hotels
Queretaro and its surrounding area houses well over 1 million people, so you can well image that there are hundreds of hotels to choose from in various price ranges, including representation by many of the major U.S. based hotel chains...
...Instead of providing you with a simple listing of many Queretaro Hotels, here are some hotels with historical interest or that stand out as "something out of the ordinary." Following this section is one dedicated to "above standard" business hotels.
Click here for link to Area Business Hotels


VILLA DE VILLAR Originally a house from the 16th Century located in the heart of the city. Each one of the 10 exclusive rooms is dedicated to one of the main municipalities of the state. The aqueduct, a symbol of the City of Queretaro, was built between 1726 and 1735 thanks to the contribution of Marques de la Villa del Villar del Aguila. Villa Del Villar Hotel takes its name as a remembrance of the Marquis title. The house that hosts the Hotel is located over the crossing of one of the main spring water channels that have existed since the sixteenth century and which was in use before the Aqueduct was constructed. These channels carried crystalline water to the city fountains, gardens, churches and houses. The fountain of Villa Del Villar courtyard and the SPA basement are remnants of this system of water distribution which originally supplied water to the occupants of the house. The hotel is one of the few buildings in Queretaro which maintains this 'acequia' in perfect condition.
Link to Hotel web site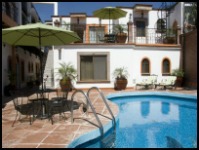 QUINTA RIO HOTEL was built at the end of the 17th Century in the zone called "El Otro Bando" (the other side). The zone was inhabited by the poor, who were not well represented in the city, so there weren't services of any kind in this area. The legend of this house tells that in the 17th Century, a Spanish alderman was sent there as a punishment. The alderman built the extravagant house in front of the church, where he lived until he died. The house was called "La Casa del Faldón". The Quinta Rio was restored in 2010, on the anniversary of the Mexican Bicentenary, and then was adapted to become a luxury Boutique Hotel. Here you will experience the combination of a classical colonial atmosphere and modern amenities. Link to hotel web site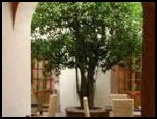 LA CASA DEL NARANJO is a charming boutique hotel that offers six deluxe suites and personalized service. The hotel is a refurbished old house that has been updated and features modern facilities while still maintaining it's unique historical and cultural atmosphere. The hotel is located in the historical center of Queretaro, the perfect place to unwind and enjoy the warm hospitality and historical treasures that Mexico has to offer. In addition to Wi-Fi, spa services, and an on-site restaurant and bar, the hotel also offers a terrace with Jacuzzi and Temazcal, a traditional sweat lodge that was originally used to purify the body as a a part of ancient curative ceremonies.
Link to hotel web site


FIESTA AMERICANA HACIENDA GALINDO In what was the splendid and stately "hacienda" which Cortés gave to La Malinche at the end of the 16th Century, stands the Fiesta Americana Hacienda Galindo, preserving the beauty of the original architecture, its large, lush gardens and colonial legends. The hotel combines its country air and historical roots with the modernity and practicality of its property to offer a magical place for vacations, business meetings and social events. This hotel's privileged location in San Juan del Rio, Querétaro, makes it ideal for visitors from Mexico City, the State of México and San Luis Potosi, as well as Guadalajara and Hidalgo, and is a favorite hotel for organizing work meetings or to spend the weekend. The hotel is an institution for the people of Querétaro, who visit it to taste the typical Mexican dishes at its restaurant or spend a pleasant evening at the bar. Link to hotel web page


DONA URRACA QUERETARO HOTEL BOUTIQUE & SPA offers 24 spacious, elegant and comfortable rooms. Located in the Centro historical area, and easily recognizable due to its colonial architecture, the hotel strives to offer the services of a modern hotel. Features include: a swimming pool, restaurant, bar, wine cellar, parking lot, beauty salon, and spa offering body, face treatments and massages.
LA CASA DEL ATRIO Part art gallery (one of the owners is an art dealer) and part B&B, this sanctuary is eclectic and homey. The six rooms (from around US$100), include three newer, even larger rooms. The location is across the street from the petite and well-curated Museo de Arte de Querétaro. Features lovely indoor and outdoor sitting areas, original art work on every wall (much of it for sale), incredibly hospitable owners and a coffee shop nestled under crumbling arches that were part of the city's ancient (and very Roman) aqueduct system. Renovation of all guestrooms was completed in July, 2009. Guests are served a complimentary breakfast. Event facilities consist of exhibit space and banquet facilities. The staff can arrange tour/ticket assistance, wedding services, event catering, and business services. Additional amenities at this Beaux Arts property include spa services, multilingual staff, and gift shops/newsstands. The property has designated areas for smoking. The 6 air-conditioned guestrooms include CD players and coffee/tea makers. All rooms have courtyard views and are equipped with LCD televisions with premium satellite channels, free movie channels, and DVD players. All accommodations provide phones along with free local calls (restrictions may apply). Complimentary wireless high-speed Internet access is provided. Beds have Tempur-Pedic mattresses, signature bedding, and Egyptian cotton linens. Each unit is individually decorated and furnished. Bathrooms offer showers and designer toiletries. Additional amenities include complimentary bottled water and ceiling fans. All rooms are accessible via exterior corridors. In addition, amenities available on request include refrigerators, microwaves, and in-room massages. Housekeeping is offered daily. The hotel offers guests a daily breakfast and serves it in various locations around the hotel including the patio. The hotel also has a private garden. Atrio La Casa is located in the historic district of Queretaro and is across from the San Augustin Church. Link to hotel web site


EL SERAFIN BOUTIQUE HOTEL is located on the first block of historic downtown Queretaro. This location is unique because it is a few steps from the major cultural attractions, including historical sites and entertainment of downtown Querétaro. Visitors will enjoy an antique mansion dating from the 18th century; full of history, with original architecture from that time, decorative details, contemporary furniture and all the conveniences of modern times. Address: Independencia 22, Centro Histórico Querétaro. Phone: +52 (442) 212-8999, (442)214-0620.
Link to hotel web site
ANTIGUO MESON DE ASPEYTIA HOTEL Located in Queretaro's Historic District, this magnificent Boutique Hotel offers you the opportunity to stay in an 18th Century home that has been designated as a national historic landmark. Just a few feet from colonial buildings, restaurants, museums and plazas, each of the 17 unique rooms has been updated with the home's original style, along with modern and elegant touches for utmost comfort. The Antiguo Mesón Aspeytia now proudly goes by its original name dating from the 18th century. An Inn in the beginning, it later had the honor to serve for many years as barracks for the military, until the quarters were moved to Cebadal Street in 1802. Another nearby building worth mentioning from the historic past, is the house numbered 1 ½ from the "Callejón de Aspeytia." It was home to Don Luis Mendoza, barber by profession, and active member of the Independence movement. From this very house, Mayor Don Ignacio Pérez took a horse and rode to San Miguel, to give the most urgent message sent by the Corregidora, that the conspiracy had been discovered. Mr. Mendoza's name is written in gold letters over the State Legislature's Chamber of Sessions. History tells us that in the 18th century an uneducated priest from the Carmelite Order, by the surname of Aspeytia, lived on what is now Morelos Street (between Juárez and Pasteur), gave up his habits, married and made a fortune to the point that he subsequently owned and restored all of the homes facing south. The street was named "Callejón de Aspeytia" to honor him, where he lived the rest of his life, and subsequently died without descendents.
Link to hotel web site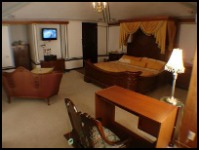 HOTEL LA CASA DEL OBISPO Seven unique suites with free Wi-Fi, LCD cable TV and antique furniture can be found at La Casa del Obispo. This charming hotel-museum is a 3-minute walk from Plaza de Armas Square. The hotel is a restored colonial house set in Queretaro's Old Town, a 10-minute walk from Alameda Hidalgo Park. Queretaro Train Station is just 700 metres away. The spacious, air-conditioned suites include local antiques which are available to buy. Each suite includes a safe, a minibar and a basket of typical sweets from the region. Staff at the Casa del Obispo are happy to arrange city tours or airport transfers. Personal butler services and in-room massages can also be booked on request. This guesthouse offers a coffee shop/café and a bar/lounge. Guests are served a complimentary breakfast. Business amenities at this property include small meeting rooms and audio-visual equipment. For a surcharge, guests have access to a roundtrip airport shuttle. Guest parking is complimentary. The staff can arrange concierge services, tour/ticket assistance, wedding services, and event catering.


LA CASONA DE LA REPUBLICA was developed in a house the back part of which was built at the end of the 17th century and its main courtyard built in the 19th century in the splendor of Art Nouveau. It has been meticulously restored with careful attention paid to respecting its original architecture. This magnificent house, abandoned for twenty years, took five years of reconstruction work so that you could feel transported to the past. The hotel maintains high standards of quality and personalized, professional service: room service & complimentary mini-bar, safe, bedding options, free Wi-Fi, TV, DVD, the loaning of films, bathrobe, slippers, and umbrellas. Located in the historic center of Querétaro, a place of decisive moments for Mexico in the 19th century, the 15 suites of this magnificent house have been given names of historical importance from Mexico's glorious past. It is just steps from the Theater of the Republic, a block from "Jardín Zenea" and close to the many plazas downtown. The hotel is a free mix of styles, respecting the architectural details of its time and adding touches of modernity and traditional Mexican handcrafts. Hidalgo #4, Centro Histórico Querétaro. Phone: +52 (442) 251- -8500. Link to hotel web site



GRAN HOTEL DE QUERETARO The place where this hotel was built in the 19th century was part of San Francisco Convent. This 5 star hotel, witness to important periods in Mexico's history, opened its doors on June 12th, 2006. The hotel has 42 elegant, comfortable and spacious suites with an impressive view of Querétaro's Downtown. All rooms have a contemporary design and are equipped with a wide variety of services. Gran Hotel de Querétaro is a Non-Smoking hotel. Juaréz Sur No. 5, Centro Histórico, Querétaro. Phone: +52 (442) 251-8050. Link to hotel web site



LA CASA DEL A MARQUESA This historic jewel is now a lavish hotel with spacious, suite-style accommodations boasting antiques from all over the world. La Casa features guestrooms that create an atmosphere of distinction and relaxation. The suites offer hardwood floors, goose feather filled cushions and bedspreads, and lush bathrobes. After a day of exploring the area, relax with an in-room massage. Built in 1756, the building that now houses the hotel is considered a landmark of architectural heritage for the city of Queretaro. Design elements were used to give some of that magic that surrounds you, wonderful wrought iron, carved Cantera, and incredible Moorish filigree adorn the chapel. The spaces, like your stay, provide an experience of all the senses. Its corridors and rooms have been moments in the history of Mexico, and have always been a magnet for big characters. The Emperor Maximilian of Hapsburg and Don Agustin de Iturbide succumbed to the charm of La Casa de la Marquesa. Link to hotel web site


HOTEL EX-HACIENDA MISION LA MURALLA Reminiscent of the Mexican Revolution, this striking 18th Century Colonial Hacienda 124-guestroom hotel offers, in addition to its fine dining and swimming pool, wall climbing and bonfires featuring tales and platoon melodies that capture the spirit of rural Mexico. On-site amenities include: Bicycle and ATV Rentals, Event Space, Business Center, and Complimentary Wireless Internet Service. Location: Carreterra San Juan del Río-Amealco- La Muralla Km.26, San Juan del Rio. Phone: +52 (427) 101-0250 / 101 0257


HOTEL HACIENDA LA VENTA is certainly a beautiful setting to celebrate an important event and at the same time be delighted by staying in an authentic hacienda, with the charm of its architecture. In the cozy restaurant you can enjoy delicious Mexican and international specialties. From the restaurant you will have incredible views of the garden, or alternatively dine al fresco on the outdoor terrace. Located in San Juan del Rio, Queretaro, this beautiful hacienda opened its doors in 2007. The hotel offers a historically rich place to stay, just five minutes from downtown San Juan del Rio. Transportation is available (upon request) to and from the Queretaro Airport, located 40 minutes away from the hotel. The property is also well located if you want to visit other nearby cities like Bernal and Tequisquiapan. The 51 rooms offer amenities such as air conditioning, wireless internet access, flat screen TV with cable programming and direct dial telephone. In addition, the hotel facilities include a heated swimming pool, restaurant and bar, meeting rooms and business center. The hotel also includes handicapped accessible rooms, laundry and room services. Link to hotel web site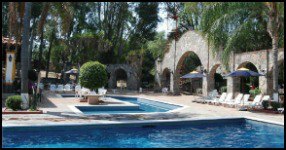 MISION SAN GIL 134 deluxe guest rooms in a 16th century historical hacienda infused with rustic appeal and traditional ornamental details typical of the colonial style in Mexico. Amenities include: on site dining, golf, Los Arcos Restaurant, tennis, basketball and volleyball courts, swimming and exterior gardens accommodating up to 100 guests for weddings and events in colonial Mexico. Only 90 minutes from Mexico City.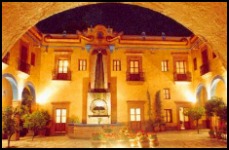 MESON DE LA MERCED Here you will find 14 comfortable suites of 3 levels with views to the heart of Queretaro. This is a building that was constructed in the 19th century and restored in the 20th century. The restaurant specializes in Mexican food as well as the traditional meals from Queretaro. In the bar you will find all kinds of drinks, national and international. Breakfast and meals are a-la-carte. The hotel is located in the heart of Queretaro, just 25 minutes away from the International Airport (QRO) and a few steps from Historical Downtown. All suites have cable TV, Internet access, safety box, mini-bar, and air-conditioning. Each suite has a living room with a small bar area on the first floor, on the second floor it has another small living room where a third person could sleep. The top floor offers an expansive and comfortable room with a king size bed and antique furniture. Link to hotel web site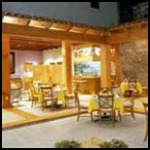 HOTEL MESON DEL ALFARERO WELLNESS HOTEL AND SPA Located in the Historic Center of Queretaro, the hotel opened in October, 1996 featuring outstanding Mexican contemporary architecture. Its 12 suites have been individually decorated, and each one boasts the name of a precious Mexican stone, and has its own special charm, capturing the traditional richness of Mexico. All of them feature amenities such as wireless internet access, bathrobes, and minibar. The restaurant provides ambience to enjoy delicious Mexican and international specialties, prepared with extreme care using the finest ingredients. The hotel offers a full-service spa and rooms are equipped with a seating and dining area, allowing guests to have breakfast served in their rooms. The hotel also offers an on-site restaurant, with live music and candlelit dinners on weekends. The hotel has a tour desk with information on area events and attractions. The hotel is within a 30-minute drive of the Queretaro International Airport.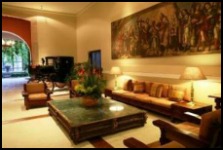 HACIENDA JURICA Built on the grounds of a 16th century colonial estate, this hotel resembles a traditional hacienda, but offers contemporary amenities as well as an on-site restaurant and lounge. Hacienda Jurica features beautiful courtyards and an outdoor pool. Guests will appreciate the purified-water system as well as the fully equipped business center. After a game of tennis, guests can read in the library or play ping-pong in the game room. Los Hules, the main restaurant at the Jurica Hacienda, serves traditional Mexican dishes and international cuisine for breakfast, lunch and dinner. On Saturday afternoons, visitors will enjoy barbecues and on Sundays, delicious buffets with live music. In the afternoon, Las Calandrias bar offers traditional Mexican snacks and live music. Before the Spanish Conquest, the area of Jurica, where the hacienda is actually located, was discovered by the Tarascans, natives from the region who decided to call it Jurica which means "place of well being" because of the beauty of its thermal and crystal clear waters. The Hacienda originally belonged to Conin, a Tarascan native who was Christianized by the Spanish after his baptism gave him the title of Fernando de Tapia. In the 16th century Emperor Carlos V gave the Hacienda to Viceroy Don Luis de Velazco, who in 1551 gave it to Don Juan Sánchez de Alanis in recognition of his achievement in the conquest of Querétaro. At one time the hacienda employed more than 500 people. What was what in those years ... The Presidential Suite used to be the payroll office and the adjacent room was the room for the Priest of the Hacienda who was in charge of performing the Catholic mass and of evangelizing the little Tarascan village. The Calandrias Bar: used to be the main barn, where they stored the best of the harvest every year. The Business Center, located near the business rooms area, also was part of the barn where they stored some grains. The arches located at La Paloma Azul bar were built at the start of the construction of the Hacienda as part of the decoration of the gardens. La Fontana Ballroom: this ballroom was built using parts from the original aqueduct built by Mr. Fernando de Tapia (Conin) in order to supply the Hacienda with fresh water brought from the nearest river in town. In 1960 the Hacienda became a property of Mr. Juan Manuel Torreslanda and in 1969 Mr. Torreslanda decided to turn the Hacienda into a high-end Hotel. The grand opening took place in March, 1969. In 1991 the Cosio family bought the property and since then this beautiful hacienda is proudly part of Brisas Hotels & Resorts. Set in the suburbs of Querétaro, this hotel resembles a traditional hacienda, with three buildings arrayed around courtyards, patios, and an outdoor pool. The hotel now features modern amenities, including 11 conference rooms for up to 700 people, a fully equipped business center and a world-class restaurant offering international cuisine. The hotel offers several on-site recreational options including basketball, tennis and horseback riding. There is also a game room with ping pong, pool table and other games. Link to hotel web site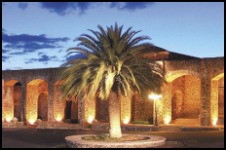 HOTEL MISION QUERETARO JURIQUILLA Located in the northern part of Querétaro and only 2 hours away from Mexico City, the hotel is imbued with colonial charm. Constructed in the main house of an 18th century Hacienda, this hotel offers elegant architecture, spacious accommodations, and dining and event space for leisure and business travel. The hotel is located in an exclusive residential area, just five minutes from the industrial parks of Benito Juarez, Queretaro and Jurica. In addition, Queretaro International Airport (QRO) is located only 45 kilometers (28 mi) from the hotel. Mision Queretaro Juriquilla features 196 well-lit and fully equipped guest rooms. All rooms are provided with air conditioning, wireless internet access, direct dial telephone, closet, safe, coffee maker, iron and ironing board, love seat, as well as private bathroom with shower. Guests can unwind with a massage at the full-service spa, take a dip in the outdoor pool, workout at the fitness center and play golf, soccer or tennis without leaving the property. Business travelers can also take advantage of the hotel's facilities, which include the largest meeting space throughout the state of Queretaro. For dining, the hotel offers a restaurant bar serving Mexican and international cuisine, a grilled-specialties restaurant and a karaoke bar.
Return to Queretaro Hotels Main Page

Return to Queretaro Main Page

Return to San Miguel Day Trips Page

Return to San Miguel Main Page

Return to Best of Mexico Travel Main Page