Mineral de Pozos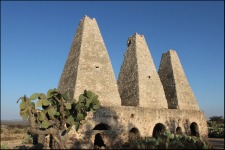 MINERAL DE POZOS was once an opulent colonial city which lived through several gold bonanzas from 1576 through the Revolution of 1910.




It grew to become one of the most important mining towns in the state of Guanajuato. At its peak, the city had approximately 300 active mines. During this time period, the community began to grow in all aspects of architecture, culture, and infrastructure.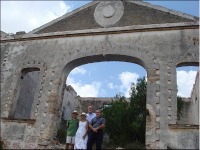 During the first half of the 20th Century, it suffered from the instability of the Mexican Revolution and Cristero War. Due to various historical events, its mines collapsed, leaving a ghost town with very few people, but full of history, culture, and architectural sites well worth visiting.

Located in the hills, at an altitude of 7,500 feet, it is only 25 miles from San Miguel de Allende. Exploring old haciendas, ruins, chapels and underground mine tunnels are some of the more popular adventures you will find here. The city was named a Historical National Monument by the Mexican Government in 1982.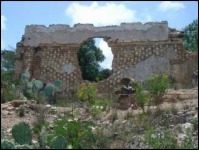 Pozos Today
Today, the town's population fluctuates between 1,000 and 4,000 people. A visit will be remembered for its serenity and solitude, which has become non-existent almost everywhere else. Pozos is a soothing getaway, where you can escape crowded sidewalks, tour buses, congested traffic, and street vendors.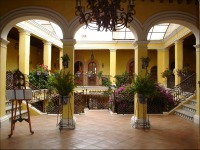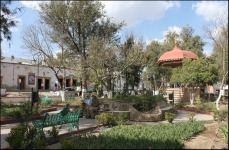 In the "ghost town" (which lately has been going through a revival as a point of interest and alternative place to live), you will find artisans who make elaborate hand-carved replicas of pre-Hispanic musical instruments, deer skin drums and rain makers. The instruments are original one-of-a-kind designs.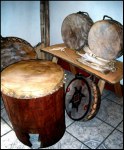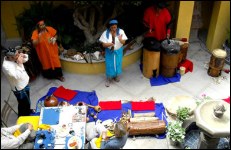 During certain festivals celebrated here, demonstrations of these musical instruments and pre-Hispanic dances are performed by local artists.

Today there is new income from tourism, leading the ghost town toward revival. Already there are four boutique hotels, restaurants, and of course trips into the abandoned mines. Artists have also begun to move here which will make it both a geological and cultural sight worth visiting.


Hotels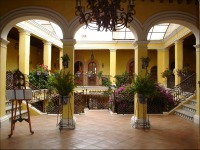 POSADA DE LA MINES A Boutique Hotel featuring a restaurant, bar and art gallery. Open daily from 8:30 AM. Decorated and appointed by owners Dave and Julie Winslow.Address: Calle Manuel Doblado #1, Centro. Telephone From US: 011 52 (442) 293-0213, From Mexico: 01 (442) 293-0213. Email:info@posadadelasminas.com. Link to web site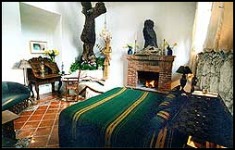 CASA MEXICANA Features a restaurant, art gallery and gift shop. Photos of the hotel and the area, activities, maps, rates and contact information can be found on their web site: Link to web site


CASA MONTANA A private castle-like villa with chemical-free lap pool, fresh cuisine daily, full staff and five luxury suites. Reserve the entire villa by day, week or month, for weddings, family reunions, corporate retreats and more. Located on the Plaza Principal. Telephone (From US):52 (442) 293-0032. Email:casamontana@prodigy.net.mx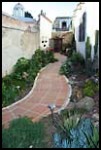 EL SECRETO DE POZOS is a luxury Bed & Breakfast located on the main square. With an emphasis on service, the B&B's three rooms feature luxury linens and wood burning fireplaces in a rustic charm. Enjoy an included breakfast in a luscious garden setting before heading out to explore the ruins. Address & Information: #6 Jardin Principal. Telephone from U.S.: 52 (442) 293-0200.


Restaurants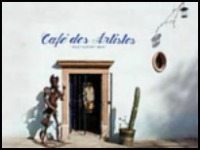 CAFÉ des ARTISTES This restaurant is housed within the Casa Mexicana Hotel, a 100-year old hacienda renovated to accommodate guests. If you want dinner al fresco, your table will be set at the perfect site to enjoy the spectacular sunset while you sip chilled white wine, enjoy cold curry chicken with kiwi and strawberry rice and finish with a delicious chocolate cake. Contact: Teresa Martinez, Jardin Principal #2, Centro. Telephone (From US):52 (442) 293-0014.Email: pozosmex@yahoo.com Link to web site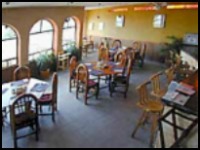 LOS FAMOSOS DE POZOS RESTAURANT AND PHOTO GALLERY Hidalgo #10B, Mineral de Pozos. 12 Noon to 8 PM daily. Phone:442 293 0112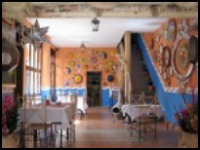 LA PILA SECA RESTAURANT, CAFE, BAR AND GALLERY Featuring popular mexican cuisine including complete breakfasts, Cecina Huasteca, Arrachera Especial, Parrilladas, Mariscos, Enchiladas Potosinas. Hours 9 AM to 9 PM daily.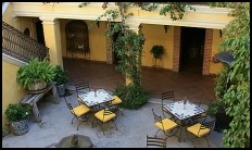 POSADA DE LAS MINES Choose from a rustic bar-cantina, two cozy dining rooms with wonderful views of the gardens and church, or several patios filled with colorful flowers and cages of singing birds. Breakfast always includes fresh ground coffee, seasonal fruits and fruit juices, fresh breads, pan dulce, and a varying menu of Mexican and American breakfast dishes. The kitchen is open daily until 9:00 PM or later in the evening, and offers a diverse menu of appetizers, soups, salads, sandwiches, and a variety of lunch and dinner specialties, both Mexican and American, including blue corn tortillas and a variety of salsas, all made fresh daily in authentic Mexican comida quality. The full service bar, Cantina Mina, has a large selection of the finest tequilas in Mexico as well as all your favorite liquors. Cantina Mina also serves espresso and cappuccino, excellent accompaniments to the ever changing dessert menu. Link to web site


Pozos Activities
There are four abandoned mines which may be visited: Ex-Hacienda Cinco Señores, Ex-Hacienda Angustias, San Baldomero, and Santa Brigida.
However, these mines are not tourist oriented, but are four abandoned mines in various states of disrepair. Some mines are fairly easy to visit and open without restrictions, others are dangerous or there is need to obtain a permit to make a visit.
The easiest and safest way to visit a mine is to hire a guide. Wendy's Mine Tour does trips into Angustias mine. This mine is electrically lighted and rather easy to navigate. Visitors are equipped with helmets, headlamps, and heavy gloves. Good shoes and clothes are advisable, also bring along fresh clothes to change into afterwards. The cave visit goes down 200m deep to the level of the groundwater, which filled lower parts of the mine. You will be able to see veins of ore containing silver, gold and other metals.
MINE TOURS
JESUS UGALDE TOURS AND TRIPS Aldama #10, Mineral de Pozos, Telelphone (From US):52-1-442-293-0081.
WENDY'S MINE TOUR Centenario #38, Mineral de Pozos.
PAUL GUERIN'S TEOCALLI TOURS San Miguel de Allende, Telephone (From US):52-415-154-7339, Cell:52-1-415-153-5147. E-mail: paulguerin@yahoo.com
SAN RAFAEL MINE TOUR Centenario # 58, Mineral de Pozos. Telephone (From US):52 (468) 117-8123
EL ORITO MINE TOUR Centenario #38, Mineral de Pozos.
OTHER POZOS TOURS
MARCO ANTONIO SANCHEZ AND LUIS FERNANDO SANCHEZ Arrangements can made through the music store on the town main street.
JULIAN CARTAS GOSANMIGUEL Apdo. 461, San Miguel de Allende, Gto., Mexico C.P. 37700. Phone (From us):52 (415) 152-0079. email:j_cartas@yahoo.com Link to Web Site


Return from Pozos to Guanajuato Main Page

Return to San Miguel Day Trips

Return to San Miguel Main Page

Return to Best of Mexico Travel Home Page