San Miguel Tours
Looking for a way to get to know San Miguel de Allende?...
...There are a variety of tours for people of all ages and levels of fitness in San Miguel. Here are our favorites...



WALKING TOUR
On this tour, English-speaking guides walk participants through San Miguel's glorious past, showing them the fascinating historical and cultural city center, its historical buildings and many churches. The tour, which includes an in-depth look at the interior of the Parroquia, takes approximately two hours and covers a ten-block area. Proceeds go to Patronato Pro Niños, a children's charity. Tour leaves from:Centro at the Jardin. Tickets available from 9:45 AM at the Jardin for around $100 pesos per person. Hours: Mon, Wed & Fri - 10:00 AM. Link to web site



PERSONALIZED WALKING TOUR
Personalized tours for lover's of Mexico by Helene Kahn. Contact Helene Kahn in San Miguel de Allende. Phone from U.S.: 011 52 (415) 152-0849 Cellular in San Miguel: 044 415 153-5944. Mailing address:Helene Kahn, Apdo. 928, San Miguel de Allende, Gto. México 37700 Email:tours@helenekahn.com Tours: Easy: Around town, viewing historic buildings, churches, market places and plazas with insider information on where to find everything you might need or want while in San Miguel. Moderate: Some hill climbing on this walk, but the views are worth it. You'll see all of San Miguel from a panoramic viewpoint and then wend your way down an ancient, narrow cobblestone path to historic "El Chorro," a natural spring that marks the location of the founding site of San Miguel. Then a stroll through Juarez Park and on to the Instituto Allende and its galleries.



TRAM TOUR - TRANVIA TURISTICO
See the main sights in 1½ hours from the comfort of an original tram. Of the six daily departures, two are bilingual and depart at 10am and 4pm. Address: Plaza Principal 17, 1st floor. Phone:415 154-5408 Price:adult $60 pesos, child $40 pesos.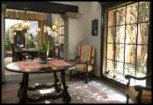 HOUSE AND GARDEN TOUR
An English-language tour of the loveliest private homes and gardens (mostly of expatriates) in San Miguel. Starts at noon every Sunday, leaving from the Biblioteca Pública. There are three different houses visited weekly. Proceeds support the library's activities. Address:Biblioteca Pública Insurgentes 25, Centro. Price for 2-hour tour: $150 pesos.Link to web site



HIKING AND BIRD WATCHING at El Charco del Ingenio
Jardin Botanico El Charco del Ingenio. This ecological reserve was created to protect and conserve the region's wildlife. Here guides will accompany you along wide routes and trails while hiking or horseback riding. If you like rock climbing, this place has ideal cliffs of varying difficulty levels. El Charco del Ingenio Botanical Garden extends over some 167 acres of nature reserve and is an extraordinary natural monument in a unique scenic area of great biodiversity. The name comes from a spring-fed pool nestled in an impressive canyon, which popular legend has interwoven with spirits and myths dating from the Spanish conquest. Above, the Las Colonias reservoir receives water flowing down from the nearby mountains, which forms permanent wetlands where birds and other wildlife abound. During the rainy season, water overflows the dam, cascading into pools in the wooded depths of the ravine. Among the boulders of the canyon and in the reservoir and surrounding dry scrubland lie vestiges of waterworks and constructions from the past that also give the place special value as a historic site.



GENERAL WALKING TOUR at El Charco del Ingenio
GUIDED TOURS Tuesdays and Thursdays at 10 AM in English. Duration:two hours. Price of admission: $80 pesos, members $50 pesos.



BIRD-WATCHING TOURS at El Charco del Ingenio
Every first and third Wednesday of the month, 9 - 11:30 AM Price:$100 pesos general public, $60 pesos Audubon or El Charco members. Guide:Signe Hammer. The walks are for birders of all levels. They begin at 9:00 AM and last about 2 1/2 hours. No reservations needed, and feel free to leave the walk at any time. Please bring binoculars, wear comfortable walking shoes and a hat, and bring water. Your guide will meet you after you pass through the Reception area of the Botanical Garden.



TOUR OF CANADA DE LA VIRGEN ARCHEOLOGICAL SITE AND PYRAMID
Visit the newly opened Cañada de la Virgen pyramid & Archaeological zone with guidance by the bilingual & extremely knowledgeable Albert T. Coffee. Coffee is an anthropologist who was invited to work on the pyramid alongside the official INAH investigating team during the 2004 field season. Coffee is also a contributor to the documentation of the wisdom and memories of the elders of the ranch communities around the zone and author of a series of articles in Atención (San Miguel's local Ex-pat weekly) about the Cañada de la Virgen pyramid, site, and the various discoveries made. Link to web site

AVENTURAS SAN MIGUEL
Offers tours around the region including horseback riding, hiking and camping trips; minimum two people. Address: Recreo 9 Centro. Email: aventurasma@yahoo.com Phone:+52 (415) 152-6406.



ATV TOUR
What is Bicentenario Todoterreno?... Led by a group of experts, and featuring all necessary safety equipment and first-level protection, this award winning journey retraces the route and places of the insurgent army road. It is a journey of about 6 hours where you will see many different ruins and historic monuments. The vehicles and expert historical guide take you through contrasting landscapes from wetlands to semi-desert. Price:$ 1,380 Pesos per Person, kids under 12 50% off. INCLUDES: Specialized Guide, technical support, Helmet, Goggles, digital photography. Link to web site



BICI-BURRO - MOUNTAIN BIKE AND HIKING TOURS
Friendly and professional, English-speaking owner Alberto conducts excellent guided mountain-bike tours for groups of two or more. Popular trips include six or seven hour excursions to Atotonilco or Pozos. All bicycle tours include use of an aluminum 12 speed mountain bike (small, medium, large and extra large bikes) with front suspension, helmet, gloves, guide, mechanic, and when appropriate, transportation in the "BurroMobile." Beto (Alberto Martínez), your intrepid guide, will take you riding up and down the hills and arroyos, across rivers, through herds of bulls, cows, donkeys and goats, to greet the country folks and escape barking dogs. Bike rentals also available (around $500 pesos per day). Address:Hospicio 1, Centro. Phone: 415 152-1526 Prices range from $700-$1350 pesos per person.
Return to San Miguel Activities Page

Return to San Miguel Main Page

Return to Best of Mexico Travel Home Page