San Miguel Restaurants
Whether its tortilla soup or chiles en nogada, everyone has a favorite Mexican dish and dining out is one of the great pleasures of a visit to San Miguel. There are over 250 registered restaurants in San Miguel and there is no way we could or would want to cover them all. Let's just say there is something for every taste and budget . . . and after looking at our summaries and links to these restaurants, you will see that there is a widespread diversity of cuisines.
If we've left out your favorite, we'll give you a chance later on to express your opinion and maybe change ours. The following brief summaries are being presented in alphabetical order with links to the individual restaurant web sites (where available) to give you a close-up look. Some even have their menus available for you to peruse on-line. When we've completed the construction of the web site, we will also provide our own designated categories and you will be able to search by rating.


ANDANZA
Guests will enjoy a memorable dining experience in this stunning restaurant. It is the winner of Mexico's prestigious Distintivo H, as well as the coveted AAA Four Diamond and the Dirona awards, the only restaurant in San Miguel to receive these honors. Most recently, Restaurant Andanza won the prestigious AAHS International Five Star Diamond Award. The food is sublime, fine china and beautiful table linens adorn the tables, and the service is exemplary. Andanza serves breakfast, lunch and dinner. The cuisine celebrates Mexican tradition with a modern flair and always features seasonal local produce. Choose from six different dining areas: Courtyard, Wine Room and Cava, Art Room, Private Dining Room, Game Room or the Blue Bar. Hours of operation: from 7:00am to 11:00pm. Reservations are recommended and can be made directly or with assistance from our Guest Relations team. Located in The Orient Express - Casa de Sierra Nevada Hotel. Casa de Sierra Nevada, Hospicio 42, Centro Historical district. Phone:152-7040 or US Toll Free: 1 (800) 701-1561 Email:mail@casadesierranevada.com. Link to web site


BOCA BENTO BISTRO Celebrates the flavors of Latin grill specialties combined with an Asian flair. Dine outdoors amidst the spectacular countryside scenery at Los Senderos and let Chef Rafael Salazar's culinary magic ignite your taste buds. Experience a unique selection of entrees including yellow fin Sashimi and Tuna Tartare with Wasabi Foam, Achiote Miso Sea Bass with Cilantro Chard Sauce and Seven Spice Salmon with Pineapple Salsa. Savor the Bacon Wrapped Diver Scallops with Tamarind, Chipotle Honey Glazed Ribs or Ancho Chili Crusted Ribeye. Enjoy decadent desserts like Chocolate Molten Temptation, Trio of Crème Brulees or the Key Lime Pie – all made fresh on premises. Dine under the stars and savor a Chili Mango Margarita, Cilantro Martini or Green Apple Mojito. Boca Bento is all about the food. Open from Tuesday to Saturday from 1pm – 9pm, and Sunday from 11am – 7pm. Serving Breakfast & Daily Fare Wednesday – Sunday 9am to 6pm. Prix Fixe & Wine Pairings by reservation only Wed – Sun: 6pm-9pm, Sunday Brunch: 9am to 1pm. For reservations or directions, please call:155-9594.


CAFE IBERICO
"A place like Cafe Iberico has always been in the back of my mind for as long as I have been in the food business. It is a restaurant where I can know and interact with my customers, produce quality food and deliver 100% consistency in service and food product ... My wife and I were chefs of our own corporate catering business, restaurant, coffee cafe and coffee roasting facility for over 15 years in the States. We cooked for thousands of people every week, but could only know a few of them on a personal basis. The restaurant is primarily a tapas bar, but also a cafe in the morning hours serving fresh biscottis and coffee. I feature blends of fresh roasted coffees from my wholesale roasting facility here in San Miguel. Spanish cuisine is my specialty and I offer an authentic menu of tapas from many regions of Spain. Depending upon what is available fresh in the region of Mexico, weekly chef's specials are offered on Friday and Saturday. A small tasteful wine list is provided with suggestions of wines from Spain, Chile and Argentina. In addition to our distinctive menu of tapas, we offer an exquisite array of unique desserts prepared weekly by my wife, our pastry chef". Location/Direccion:Mesones 101, Colonia Centro. Hours/Horas:2pm to 10pm Sunday – Thursday, 2pm to 11pm Friday – Saturday. Phone:152-6154. Email:cafeiberico@hotmail.com. Link to web site


CAFE RAMA
One of our favorites . . . San Miguel de Allende is full of pretentious costly restaurants that take their shot at producing consistently good French, Italian, Asia or contemporary cuisine. SMA is also rife with inexpensive traditional Mexican-style restaurants to fill your appetite for sopa de tortillas, tacos, molcajetes, fajitas, chili relenos, quesadillas, and such. Café Rama is in a class by itself. Something different and a rarity in San Miguel. Café Rama currently serves breakfast, lunch and a weekly prix fixe dinner (reservations required). Address:Calle Nueva #7 (Just down the street from Rosewood), CENTRO. HOURS: TUE-SAT 8:30-4.30 PM. THUR-SAT 5:30 PM-11 PM (TAPAS HOUR). TEL:154-9655. Link to web site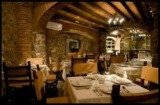 CARCASSONE
The menu, decoration, ambience, and design were inspired by the magical city of Carcassone, France. Its architecture boasts of stone walls and ancient ceilings to create a unique space for the performance of different musicians and singers each weekend. The menu has a variety of French dishes as well as creations of the chefs and specials of the seasons. Reservations on weekends recommended. Phone:152-0880 or 152-0053. Address:Correo 34, Centro Histórico. email:info@carcassonne.com.mx. Link to web site



CHAMONIX
Chamonix is a pleasant experience for your senses. It is located only a few steps from the heart of San Miguel and its main objective is to offer excellent service and an international kitchen that will make your visit an unforgettable one. Cross Street: Correo y Hospicio Sollano 17 (Cross Street:Correo y Hospicio). Phone:154-8363.Prices:MXN300 and under.Hours of Operation: Lunch and Dinner: Tuesday – Saturday: 1:00pm – 10:00pm.


DILA'S RESTAURANT GALLERY
The Sri Lankan menu is delightful, prepared by the Swiss-trained chef, Dilishan Madawala. The food can be prepared from mild to spicy, as the chef and the staff are eager to please. The sopa de dai is a unique dish that warms your palate and surprises your taste buds with its varied vegetables. This is a perfect spot for a vegetarian as well as a carnivore. On Friday evenings, there is entertainment offering a combination of classical guitars and a belly dancer. 31 Ancha de San Antonio, Centro. Open:Tuesday to Sunday 1:00 PM to Midnight. Phone:121-0235. Link to web site



DONA DIABLA
Authentic Oaxacan food made from scratch. Moles in yellow, green, red and black that have over 50 ingredients. Made from recipes of Chef/Owner Miguel's grandmother, the one and only Doña Diabla. Don't miss the Empanadas de Betabel. Pila Seca #16, Centro. Phone:122-2560.



EL BUEN CAFE
Come enjoy the surroundings--sit among the fruit trees in the lovely garden sipping a glass a wine accompanied by tasty salmon with guava-chipotle glaze, or stop by and relax on the comfortable patio sofa with a cup of coffee. El Buen Café at La Casa de Diezmo, Jesús 36, Centro Historico. Tuesday-Thursday, 9-4. Sunday Brunch, 10-2, closed Wednesdays. email: culinaryadv@gmail.com. For reservations only:1-888-407-3168


EL CORREO
Located just a block away from the historical main square, El Correo is a truly Mexican experience when it comes to homemade comfort food. With 18 years of experience, it´s a well known gathering spot for locals and tourists who are looking for authentic Mexican cuisine in a relaxed and cheerful atmosphere. Offering a wide variety of lunch and dinner Mexican specialties from different regions, all made with the most fresh ingredients and unique care. Chiles en Nogada, Red and Green Mole, Sopa de Tortilla and Corundas, are a few good examples of its specialties. It´s also the ideal place to just relax and enjoy a cold Margarita and some delicious Guacamole. Open 8:00 am to 11:00 pm. Closed on Tuesdays. Address:Correo # 23, Centro. Phone:152-4951. Link to web site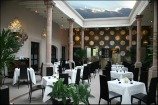 EL MESON RESTAURANT AND BAR
With a new eclectic fresh style and located right next to Angela Peralta Theatre and Bellas Artes Institute, it´s set in an exclusive area, just a few blocks away from the town´s main square with a beautiful open colonial patio. El Meson Restaurant & Bar offers a wide menu for breakfast, lunch and dinner. Also available to cater private parties and wedding groups. Address:Mesones 80, Centro. Phone:152-0580. Email:elmesonhotel@prodigy.net.mx or elmesonhotel@hotmail.com. Link to web site


EL PETIT FOUR
Even if you're staying in a place where breakfast is included, skip it some morning and visit this place. The pastries are to die for. The coffee is the best in San Miguel. And the people working here are genuinely happy and pleasant to be around. The owner, Paco, is well known as one of the top chefs in San Miguel. He is a great guy who truly loves making awesome pastries and desserts. Mesones 99, Centro.Phone:154-4010 Link to web site



EL TOMATO
The concept is an Argentine Italian Fusion, where rustic comfort food meets authentic Argentine flavors and traditional Italian dishes, using local ingredients & family recipes. Some items you may find on the menu are Argentine cuts, steaks, sausages, empanadas, provoleta, pastas, ravioli, risotto, gnocchi, and lasagna. There is also a wide selection of wines, specializing in varieties from Argentina and Italy. Mesones 62, Centro Histórico. Phone:154-6390. email:eltomatosma@gmail.com.
Link to web site


HACIENDA GUADALUPE
You can find specially selected national dishes as well as international delicacies, all made with the freshest and highest quality ingredients, both national and imported. You are invited to enjoy the food at the bar or in the dining area while also enjoying the music and ambience of the restaurant. If your choice is to just enjoy a drink, the hotel bar offers a relaxed and cosmopolitan ambience, offering a large variety of tequilas and Mezcales, an extensive cocktail menu, and an ample selection of wines, both national and imported. Located in the Hacienda de Guadalupe Boutique Hotel, Hidalgo No. 4, Centro, Reservations phone:121-0700, 121-0800 or121-0900. Link to web site



HECHO IN MEXICO
San Miguel de Allende's "neighborhood restaurant". Located in the historic center, and providing a wide range of international comfort dishes in a causal outdoor atmosphere at reasonable prices. Ancha de San Antonio #8, Centro. Phone:154-6383. Hours of Operation:Sun-Thurs:12:00pm-10:00pm, Fri-Sat:12:00pm-11:00pm. To-Go Orders Available. Link to web site


LA CREPE
This restaurant offers affordable dining. Enjoy an intimate indoor-outdoor dining experience with French, international and Mediterranean specialties with full bar at very reasonable prices. Offers an exterior dining area on a lovely colonial patio as well as a dining room with a beautiful view to the central fountain. On Sundays, the restaurant opens at 11:00 AM for brunch with a special menu. email:terra1@alfonsoalarcon.com. Conveniently located at:Hospicio 37, Centro. Phone:154-9435. Hours Mon-Sat: 1pm-10pm, Sunday: 11am-4pm, Closed Wednesdays.Link to web site



LA POSADITA
Close to La Parroquia, and commonly referred to as having the best margaritas in the city. The sweeping countryside view from one of San Miguel's most romantic rooftop terraces is another enhancement. The guacamole is great, as are the other traditional Mexican dishes such as enchiladas. 13 Cuna de Allende, Centro. Phone:154-7588.


LA VIRUNDELA
Enjoy real Argentine steaks cooked and smoked over the grill with pure mesquite hardwood coals. Vegetarian fare includes veggie grill and grilled mushrooms. Their Argentinean cuisine is a fusion of the cuisine from European countries including Italy, Spain, France, England an also influenced by Arabian cuisine, avoiding the use of hot chilies and other strong spices. Address: Codo # 4, Centro Historical District. Phone:152-4400.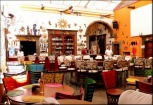 LOS MILAGROS
Step into a centuries-old colonial house vibrant with Mexican décor and featuring the "miracle-making" figurines called
Milagros, along with other colorful handicrafts. In this beguiling and comfortable setting you will discover . . . Full bar service, including tequilas, margaritas, mojitos, piña coladas, and martinis. Patio dining around the fountain as well as in a more intimate dining salon. Selection of traditional Mexican dishes, such as tampiqueñas, enchiladas, sopes and tacos of steak, shrimp, or fish. Live music nightly (except Sunday) — salsa, cumbia, trova and popular favorites. Friendly bilingual service. Televised sporting events on the big screen. Los Milagros is located at Calle Relox 17, in Centro just half a block from El Jardín. Phone:152-0097.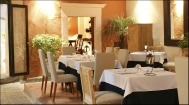 MI VIDA RESTAURANT
An Italian Restaurant with a Mexican Accent from the union of two extraordinary chefs: Davide Giribaldi, an Italian and Greta Ortega, a Mexican. Everything is prepared fresh daily by natural methods including on-premises made bread and pasta. Live jazz Wednesday evenings 8-10 PM and piano music Saturday evenings 8-10 PM. Open every day except Tuesday from 1 PM to 10:30 PM. Sunday the hours are 3:00 PM to 10:30 PM. Address:Hernandez Macias 97, Centro. Phone:152-7482. Email:info@mividarestaurant.com. Link to web site


Go to Page 2 of San Miguel Restaurants

Return to San Miguel Main Page

Return to Best of Mexico Travel Home Page