San Miguel Spas, Wellness Centers, Thermal Baths and Yoga Centers
BALNEARIO ESCONDIDO PLACE
Located 10 km (6 mi) from San Miguel de Allende, off the San Miguel de Allende-Dolores Hidalgo Highway 110. This resort has nine pools, three of which have thermal spring waters. The water temperature ranges from 30º to 40º C (86º to 104º F). This place also offers grass areas, gardens, barbeque grills and a restaurant-bar.


VILLA KATARA
A Detox center with wonderful day long treatments from hot and cold oil packs, mud packs, thermal water, and Russian steam. 4 or 7 day packages are available for a detox of chemicals in the body, with a specially geared food regime. Phone: +52 (415)155-8146. Link to web site



LA GRUTA
La Gruta is set amidst a 12 acre landscaped area with trees, shrubs, bougainvillea, and a little creek running through the property. An outdoor restaurant affords patio dining including service to those lounging in the grassy areas which surround the pools; serving chicken fajitas to cocktails. After paying the $7 US admission fee, walk down a few steps to the changing room where lockers provide security. From there, it's a short walk down to the pools, lawn, and spa area. Three separate outdoor thermal pools offer warm to almost-hot waters for bathers to soak before massage treatments (about $20 US), facials or wraps. A dome-topped thermal pool leads off the warmest pool; inside, a "waterfall" cascades from one wall several times an hour. Located just 15 minutes away from San Miguel Centro, on the road to Dolores Hidalgo. Visitors can take a city bus, drive or take a taxi.


LAJA SPA
Paying tribute to the magnificent Laja River that flows through the mountains in the north and fills the San Miguel Presa (reservoir), the Laja Spa is a haven of purification and rejuvenation. Offering a range of treatments from traditional healing therapies based on the natural hydration of the Laja river, to some thoroughly modern spa treatments where the spa diagnoses exactly what your skin is missing and prescribes a delicately balanced therapy treatment in one of three beautiful air conditioned colonial style treatment rooms. Rest, refresh, restore—retreat. Link to web site



LIFEPATH CENTER
LifePath is a center for personal growth and wellness of body, mind, and spirit in an enchanting centuries-old villa in the heart of San Miguel. Serving the international community for over a decade, LifePath offers programs in higher awareness, holistic healing, and inner exploration and retreat in a setting of incomparable beauty and serenity. Link to web site



MATILDA SPA
An oasis of tranquility and rebirth where guests are immersed in a collection of highly personalized, multi-culturally inspired treatments and therapies, suited for a wide array of unique preferences. Embark on a journey of discovery into the heart of holistic restoration, relaxation and wellness.


THE MAYAN BATHS
San Miguel's private hot springs baths, sanctuary of 101 degree natural thermal mineral waters where you swim through underground quartz and crystal grottos to outside pools where from high on a hill you gaze at the vast Laja River Valley and the majestic Sierra Madre Mountains. A labyrinth of interconnecting subterranean tunnels and passageways lead to an underground pyramid chamber where you can relax while listening to soothing music before descending into the steamy hot waters. Indulge yourself with a rejuvenating massage in your own underground private room. In the evening, candles light your way through the tunnels to outside pools, the twinkling stars, the moon and the brilliant sweep of the Milky Way. (By reservation Only.) Phone:(English) Gary - Mexico Cell (415) 103-0249 Email: Gary@TheMayanBaths.com Phone:(Español) Laura - (415) 122-2981 - Nextel 92-15-83633 Email: PreciadoLaura@yahoo.com.mx Link to web site


NIRVANA RETREAT AND HOLISTIC CENTER
Services are targeted to ensure the holistic well-being of body and mind. Features include: restaurant, lodging, spa, yoga, Pilates, Tai Chi, dance, tango, and coo king lessons.



SAGRADA WELLNESS AND YOGA RETREATS
A pristine vacation getaway in the mountains above San Miguel offering luxurious all-inclusive yoga retreats, Pilates retreats and restorative vacations. Guests stay in charming adobe cabañas, rejuvenate with daily yoga and spa services and enjoy nourishing gourmet meals in the Mexican antique adorned lodge. "Sagrada," which means sacred, is a true reflection of the beauty, historic landmarks, healing energy and eco-design that grace the 15-acre sanctuary. Link to web site


SENSE SPA AT ROSEWOOD
The world-class spa sanctuary offers a full range of therapies, treatments, massage and facials, including signature offerings that integrate Mexican healing traditions with indigenous ingredients, as well as extensive and separate facilities for men and women featuring saunas and steam. A well-appointed fitness center offers state-of-the-art facilities, personal trainers, yoga and Pilates instruction. Email: sanmiguel.spa@rosewoodhotels.com Link to web site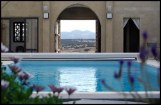 SHANTI - SWIMMING IN AN EXCLUSIVE SETTING
In India, it is said that the guest is a god. And that's how you are made to feel at Shanti San Miguel. Shanti (the Hindi word for "tranquility") is a place to relax, to refresh your body, and to elevate your spirit. Whether you come just to enjoy some of our food (with an emphasis on hearty breakfasts, tantalizing Indian cuisine--and now barbecue on weekends), to try a yoga class, to laze in our heated turquoise pool beneath the brilliant sky, or just to have a great massage and dip into our well stocked book and game room and hang out with your friends. . . Link to Web site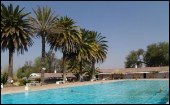 TABOADA RESORT AND THERMAL BATHS
Resort and day entry for thermal baths. Thermal waters from well - odorless, colorless and potable with a natural temperature of 38° C (100.4 F). Picnic grounds with coal burning grills. Link to web site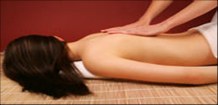 SPA - THE SPA SAN MIGUEL DE ALLENDE
Enjoy first class full Spa treatments for face and body care including: Invigorating Exfoliation, Wraps with herbs (algae, rose petal, extracts in blends of botanical thermal clay), Foot pampering, Reflexology, Full back treatment, Refreshing moisturizing deluxe double mask facials, Aromatherapy and Relaxing or deep tissue body massages. Link to web site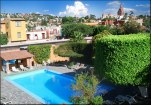 SWIMMING POOL WITH WAITER SERVICE
Posada de la Aldea's swimming pool is open to non-guests most days. Address: Ancha de San Antonio 15 Centro. Phone: 415 152-1022 Price: $50 pesos per person. (www.hotellaaldea.com.mx/sanmiguel.php)


Return to San Miguel Main Page

Return to Best of Mexico Travel Home Page