San Miguel Hotels and Accommodations Comprehensive Guide
Looking for San Miguel hotels or other accommodations for your trip?
...Our listings are an A-Z comprehensive and current listing of all types of accommodations in and around San Miguel de Allende, summaries, links, and contact information for all budgets.

Since our move here we have become intimately knowledgeable about all types of accommodations in the area. Carmen headed up the hotels and restaurants sector as well as the special division of private villa accommodations for the VIP guests of our Guanajuato International Film Festival which is held here annually in the month of July...

5 Star Hotels - The Top of the Top

Rosewood San Miguel de Allende
Cradled within the historical heart of downtown, this sanctuary presents 67 beautifully appointed guest rooms, Sense, A Rosewood Spa®, signature restaurants, a rooftop lounge, event space, outdoor amphitheater and luxury residences. Visit Hotel Web Site
4 Star Hotels

Casa de Aves
One of the most beautiful hotels overlooking the countryside on the outskirts of San Miguel. Eight private villas offering privacy and comfort in the atmosphere of a boutique hotel. Visit Hotel Web Site



Casa Tierra Negra
Tranquility, sophistication and comfort are the distinguishing hallmarks that identify Casa Tierra Negra as one of the premier new small Boutique Hotels in San Miguel de Allende. With seven suites, Casa Tierra Negra offers accommodations with an intimate atmosphere and warm service. Located in the heart of San Miguel, just three blocks from the main Plaza, the suites are decorated with impeccable taste and style. Visit Hotel Web Site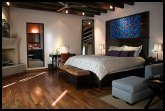 Dos Casas Luxury Boutique Hotel
A boutique hotel tastefully blends Spanish Colonial architecture with sophisticated, contemporary design for a truly relaxing and luxurious retreat. Only three blocks from the heart of San Miguel de Allende. Visit Hotel Web Site



Hacienda de Guadalupe
Housed in the old convent of the Guadalupana nuns, Hacienda Guadalupe combines Spanish colonial architecture with sophisticated contemporary design. 16 luxurious suites are centered around a 400 year old courtyard that has been converted into a restaurant with a majestic bar in the middle. Hacienda de Guadalupe



Hotel Matilda
The 32 rooms and suites are all luxuriously appointed with artistic touches, from Mexican calcutta marble floors to fine 400 thread count linens. Each room features art by acclaimed Mexican artists and most feature a balcony or terrace, many with panoramic views of picturesque San Miguel de Allende's steeple-studded skyline.



Casa de Sierra Nevada
A cluster of historic buildings at the center of the city, this charming Orient-Express hotel offers the ultimate Mexican experience. Cool, leafy gardens, stone arches and traditional wooden doors surround pretty courtyards lit by lanterns as night falls. Visit Hotel Web Site



Nirvana Retreat and Restaurant
A country retreat nestled among century-old mesquite, acacias and cacti, on the banks of the Laja River. Located in the historic World Heritage site and colonial village of Atontonilco, just 15 minutes from San Miguel. Emphasis on holistic well-being of body and mind. Renowned chef Juan Carlos Escalante hosts you in his fabulous on-site restaurant. Activities include: Spa, Yoga, Pilates, Tai Chi, Dance, introduction to Mexican cuisine, ATV, horseback riding and cycling. Visit Hotel Web Site



3 Star Hotels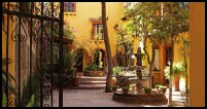 Casa Mia Suites
An enchanting gateway to the magic and charm of historic San Miguel. Fully serviced apartments where you will enjoy a strategic location that's just a short walk away from many important city landmarks.



El Alcazar
An old traditional house restored with exquisite taste, and converted to a guest house with six magnificent and comfortable suites marrying elegance and colonial Mexican architecture with the amenities of a Grand Hotel. Visit Hotel Web Site



Hacienda El Santuario
Luxurious guestrooms with a motif of Colonial Mexico including a cozy sitting area, an attentive staff and a great location close to several historic sites. Enjoy a complimentary continental breakfast, or relax with a massage at the spa.
Dona Urraca Hotel
Features include an outdoor pool and spa. Every suite at the hotel offers free WiFi, bathrobes, air conditioning and select suites provide a seating area with coffee facilities. Visit Hotel Web Site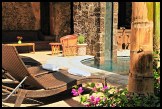 Hotel El Meson
Located a few blocks away from the town´s main square. An eclectic fresh style with 15 spacious rooms overlooking a beautiful central patio and swimming pool with full service open bar.
Visit Hotel Web Site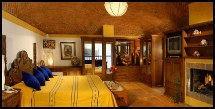 Hotel La Morada
Located half a block away from San Miguel de Allende's Main Square, the hotel has 18 spacious suites and 3 cozy deluxe rooms. Most of the accommodations have sitting rooms, fireplaces, a personal Jacuzzi, Cable TV, DVD, direct line telephone and security safe. Visit Hotel Web Site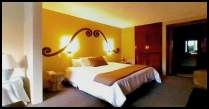 Hotel Real de Minas
Located in the historical district, this hotel is close to Juarez Park, The Parroquia at El Jardin, and Bellas Artes. Facilities include tennis, an outdoor pool, concierge desk and a business center. Guest rooms include cable television, and air conditioning. Visit Hotel Web Site



Go to Page 2 of Hotels
Return from San Miguel Hotels to San Miguel Main Page
Return from San Miguel Hotels to Home Page