Guanajuato Museums
Guanajuato's history could easily be told by visiting its old buildings, the very edifices that have become many of the city's museums, which maintain and preserve regional culture.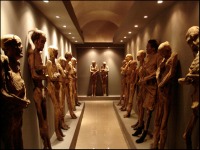 THE MUMMY MUSEUM Here you'll discover the secrets and mysteries of the mummification process. This extraordinary museum has more than 100 mummies on display. Some of the corpses that were buried alive still have a look of horror on their faces. Open daily from 9:00 to 6:00, you will discover bodies of mummified women, men and children whose bodies were exhumed between 1865 and 1989.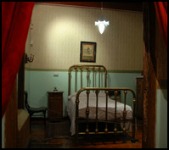 CASA MUSEO DIEGO RIVERA This 18th-century house was the birthplace and residence of famed Mexican muralist Diego Rivera. On display is a collection of works from various periods of the artist's career. You'll also see 19th-century furniture that belonged to the Rivera family, as well as temporary exhibits. Located at 47 Positos Street and open Tuesday through Saturday from 10:00 to 7:00.




MUSEO DEL PUEBLO DE GUANAJUATO Located at 7 Positos Street. This 17th-century building houses works of art from the 18th and 19th centuries that were donated by artists Jose Chavez Morado and Olga Costa. It also has temporary exhibits. The building has a Churrigueresque chapel that was damaged probably around the 19th century. Open Tuesday through Saturday from 10:00 to 7:00.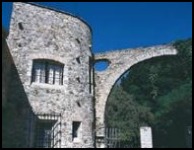 MUSEO DE ARTE OLGA COSTA AND JOSE CHAVEZ MORADO This museum is located in the tower of the Noria of Hacienda de Guadalupe, built in the 17th century, set in a hollow of the surrounding hills, in the Pastita neighborhood. In 1966, the couple Olga Costa (1914-1993) and José Chávez Morado (1909-2002), both artists, acquired this part of the estate to convert it into what would be their home and Olga Costa's study. In 1990 the artists decided to convert the tower into a museum which would carry both of their names. The museum was donated together with their collections to the State Government. It was inaugurated on April 2, 1993. Today you will find a collection of oil paintings called Mano con Mano (Hand in Hand) of original work by the two artists. The collection of the artists, numbering approximately 500 pieces, is made up of an interesting selection of furniture pieces and diverse objects, in addition to works of art by contemporary Mexican artists. Open Tuesday through Saturday from 9:30 AM to 4:00 PM and Sunday from 10:00 AM to 3:30 PM. Calle Pastita 158, Torre del Arco, Barrio de Pastita. (473) 731 0977.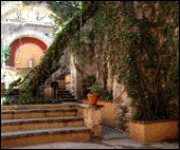 MUSEO EX HACIENDA SAN GABRIEL DE BARRERA This 18th-century hacienda with a colonial mansion houses paintings, furniture and rugs from that era. Since 1979, the Ex-Hacienda San Gabriel de Barrera Museum has offered city visitors a place full of greenery and color complemented by magnificent colonial architecture. Originally known as the Ex-Hacienda de Barrera Grande, the hacienda extends over 22,000 square meters (237,000 square ft.). The original entrance was the bridge over the Guanajuato River. The inside of the hacienda is divided into three parts: the first was formerly the house proper, as well as offices and recreational spaces, now all part of the Museum. The second part was where religious services were held. Here, one finds a small chapel featuring a 15th century Spanish altarpiece. The third and last section was a work area, and included areas where the precious ore was extracted, storage rooms, aqueducts, water wheels, tanks, and horse stables. The areas once used in the extraction of ore have been replaced with seventeen beautiful gardens, each one unique. Over the centuries, ownership of the hacienda passed from hand to hand. In 1947, the last private owner, Mrs. Elsa Bas de Armida oversaw the transformation of the old hacienda into what we see today. It was acquired by the Guanajuato State Government in 1975. Located at 89A Paseo la Presa. Open daily from 9:00 to 4:00.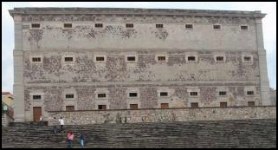 MUSEO REGIONAL DE GUANAJUATO (Alhondiga de Granaditas) – Once a grain warehouse and later used as a fortress by Spanish defenders during the War of Independence and the 1810 invasion led by Miguel Hidalgo. Now a museum, displaying paintings by Hermenegildo Busto, murals by Chávez Morado, and a collection of colonial pottery. Also on display in its showrooms are important collections that narrate the evolution of Mexican society, from the pre-Hispanic era to present day. Open Tuesday through Saturday from 10:00 AM to 2:00 PM and 4:00 PM to 6:00 PM, and Sunday from 10:00 AM to 4:00 PM. Location: Mendizabal No. 6, entre las calles Alhóndiga and 28 de Septiembre. Phone: (473) 732-1180 and (473) 732-1112.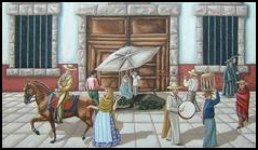 GUANAJUATO DEL SIGLO XVII In a religious building constructed during the 17th century, it opened as a museum on September 21, 1979. It has seven rooms dedicated to presenting exhibitions of contemporary Mexican and foreign artists, and 11 permanent works by the painter José Chávez Morado, painter Hermenegildo Bustos, and the Mexican art of the 18th and 19th centuries. It also contains a theater, offers history and drawing classes for children, guided tours, concerts, conferences, editorial presentations and art competitions. Located on Sopeña Street, in front of the Jardin Union.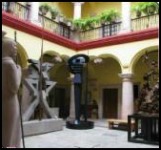 MUSEO ICONGRAFICO DEL QUIJOTE This museum has an extensive collection of paintings, etchings, drawings, rugs, coins, sculptures and porcelain figures with a common Don Quixote theme. Among the masterpieces here you'll find works by Salvador Dali and Jose Luis Cuevas. Located at 1 Manuel Doblado. Open Tuesday through Saturday from 10:00 AM to 6:30 PM and Sunday from 10:00 AM to 2:30 PM.


Return to Guanajuato Main Page

Return to San Miguel

Return to Best of Mexico Travel Home Page