Guanajuato Hotels
If you are looking for the finest Guanajuato Hotels, there are two world class hotels described below and are well worth checking out further by using our web site links below each property. The Villa Maria Cristina is our favorite and stacks up against any boutique hotel world-wide. Quinta de las Acacias is also a luxury boutique hotel.


VILLA MARIA CRISTINA Fine taste pervades the hotel throughout, with impeccable attention to detail, offering the cozy and stylish atmosphere of an aristocratic home. Its 13 spacious suites with wooden floors and marble bathrooms, are decorated with French furniture and take full advantage of the architectural style, with large windows allowing for natural light, creating an atmosphere of elegant intimacy. The warm, terracotta-colored walls, floors inlaid with mosaics and hallways punctuated by plants, create pleasant public areas and a sense of space. The terrace, with its king-size jacuzzi beneath a pergola, is the ideal space for al fresco dining, afternoon tea or an evening cocktail, when the light thrown by the wrought-iron lamps and the water features create a romantic ambiance.
The hotel also serves as the ideal location for a special occasion or event, from conferences and meetings to weddings and celebrations. The hotel's spa, with a Roman-style sunken pool, whirlpool, Swiss showers and treatment rooms, is an oasis in which to be pampered just a short walk from your suite.
The restaurant, occupying an elegant salon on the first floor, serves an ever-changing menu of exquisite dishes of Mexican and international inspiration, perfectly complemented by fine wines from all over the world from the hotel's extensive cellar. The first-class, friendly service from the staff will cater to your every whim and make you feel at home, away from home, while private limousine service from the local airport or Mexico City means your luxury experience begins even before you reach the hotel. Address:Paseo de la Presa de la Olla No. 76, Colonia Centro, Guanajuato. Phone:(From US) 52 (473) 731-2182 or toll free: (866) 424-6868. From Mexico: 01 (800) 702-7007. email:reservaciones@villamariacristina.net.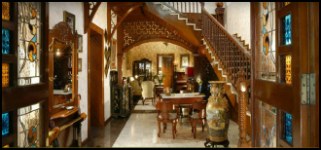 QUINTA LAS ACACIAS HOTEL BOUTIQUE is a Mexico Boutique Hotel member. It was built in a XIX century French style mansion, which is listed by the INAH (National Institute of Anthropology and History) and restored very carefully in 1998 to create a luxury hotel. Its decor is a mix of the classic European style furniture and antiques with Mexican handicrafts. This combination creates an elegant and welcoming atmosphere in all the rooms and common areas, inviting guests to relax and enjoy an unforgettable stay. A spectacular view of Guanajuato's surrounding terrain can be enjoyed while relaxing in the outdoor Jacuzzi and/or having a refreshment in the cactus garden.
Link to hotel web site

The following properties are a mixture of average to mediocre accommodations tailored to all budgets.


CAMINO REAL GUANAJUATO was built from the ruins of a 17th century estate building called Hacienda de Beneficio de Metal de San Francisco Javier (Metal Extraction of San Francisco Javier Hacienda). The result is a perfect melding of history and the needs of a modern hotel, adding the unique touch of the Camino Real brand to every nook and cranny of this remarkable building. The historical legacy of the hacienda has been painstakingly preserved, each detail and each façade of every room. Thanks to the creativity of the team that restored it, the building is recognized as a historic building protected by the National Institute of Anthropology and History (INAH) and a World Heritage Site.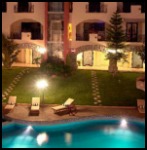 QUNITA LAS ALONDRAS HOTEL AND SPA has a full-service spa, an outdoor pool, a spa tub, and a fitness facility. Also featured are a 24-hour business center, small meeting rooms, audio- visual equipment. The hotel contains a restaurant and a bar/lounge. Guests are served a complimentary breakfast. Guest parking is complimentary. A total renovation of this property was completed in February 2011. The 54 guestrooms include safes and makeup/shaving mirrors. Rooms have pool or garden views. 32-inch plasma televisions are equipped with Mexican satellite channels, free movie channels, and first-run movies. All accommodations provide desks and phones. Guests can use the in-room complimentary wireless and wired high-speed Internet access. Beds have down comforters and premium bedding. Bathrooms offer bathtubs or showers, hair dryers, and complimentary toiletries. All rooms are accessible via exterior corridors. Link to hotel web site


HOTEL ABADIA PANORAMICO 50 fully carpeted rooms, with Mexican cable TV, double beds or king size beds, and telephone. Parking next to the rooms, traditional restaurant/bar, wading pool, games area with pool table, meeting rooms, and terrace with excellent views of historic downtown all ideal for your special events. Decorated in colonial style, the hotel is nestled between hills and nature, preserving the vestiges of European Renaissance and Baroque architecture. Admire fascinating cobblestone paths, wooden furniture, brick roofs, quarry stone arches and mud murals. The view from the hotel is absolutely outstanding, allowing you to fully appreciate the majestic grandeur of Guanajuato. Link to hotel web site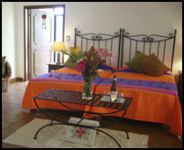 AL SON DE LOS SANTOS is a charming Hotel & Hostel with traditional Mexican artisan style. Located in the heart of Guanajuato, a short walk to historic sites, theaters, museums, cultural centers, a variety of shops and the best nightlife in the city. Common areas have a kitchenette and terrace where you can share experiences during your stay. An on-site chef is available to prepare meals.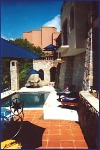 CASA ESTRELLA DE LA VALENCIANA is a six-suite hillside Mexican bed and breakfast inn that overlooks the Valenciana mine. Every one of the unique bedrooms, each with its own private bath, has a view of the city and its surrounding mountains. Nestled in the heart of the Central Mexican Highlands - Mexico's "Cradle of Independence," the location is perfect to enjoy the romantic city of Guanajuato. Guests can relax at the end of their day poolside, under an umbrella at the jacuzzi, or on one of the many terraces. In the morning, you'll enjoy a full breakfast on the dining terrace or in the dining room. Full breakfast is included in the room rate. Wake up to Mexican coffee, a variety of juices, and fresh native fruits. Breakfast entrees vary daily. Special dietary requests are welcomed at the time of your reservation. Link to hotel web site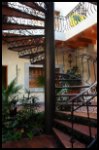 CASA MAGICA In mornings you can enjoy a full breakfast and at night the bar offers an ample selection of fine wines and cocktails. Link to hotel web site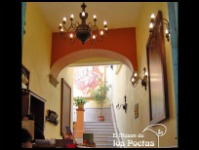 EL MESON DE LOS POETAS is a restoration of a house from the XVIII century. The hotel's location is downtown in the Centro historical district.The Meson of the Poets, pays homage to the most important poets of history, adapting the 31 rooms to the style of each artist.


HOSTERIA DEL FRAYLE Tranquil refuge in the heart of the historic city center. The hotel is located a few paces from the Teatro Juarez and the Jardin de la Union. There is a public parking lot on Alonso street, and motorcycle parking next to the Teatro Juarez. Address: Sopeña Street #3 email:hosteriadelfrayle@yahoo.com.mx. Telephone: 52 (473) 732-1179
Link to hotel web site
HOTEL BALCON DEL CIELO Spectacular views of Guanajuato, a free Wi-Fi zone and a Museum of Legends can be found at Balcón del Cielo. It offers free access to the city centre via a funicular railway. Each room has a panoramic city view from its windows, balcony or terrace. Decorated in soft colours, all rooms include air conditioning and cable TV. The hotel is situated next to the Pipila Monument, on a hill above the city. The funicular (cog railway) connects you to the historic city center in less than five minutes. The famous Museum of Mummies is just 500 metres from the base of the railway. The Diego Rivera House Museum is a 5-minute walk away. Location: Carretera Pípila s/n, Colonia Centro, Guanajuato. Telephone (From US): 52 (473) 732-2576.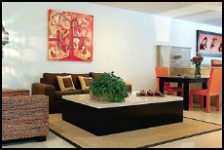 GUANAJUATO MEXICO PLAZA HOTEL A hotel with Mexican flavor and tradition combined with modern Mexican architecture. This hotel offers a restaurant and a bar/lounge. Business amenities at this property include a business center and small meeting rooms. Additional amenities include a fitness facility, laundry facilities, and secure parking. The 38 air-conditioned guestrooms include minibars and safes. Rooms are equipped with plasma televisions with Mexican cable channels. All accommodations provide desks and phones. For a surcharge, guests can use the in-room wireless and wired high-speed Internet access. All units at this hotel have kitchenettes with microwaves and coffee/tea makers. Inside the Plaza San Javier, you will find various shops and services to make your stay more enjoyable. Location:Plaza San Javier S/N, Colonia San Ja, Plaza San Javier, Guanajuato. Telephone (Mexico): 001-800-364-0291. Link to hotel web site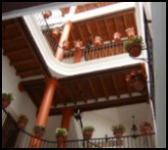 HOTEL CASA DEL AGUA An old colonial house of the XVII century located in the Centro Historical downtown district, near the Teatro Juarez, the University of Guanajuato, and across the street from the Templo de la Compania. The mansion was converted to a boutique hotel, but preserved its own unique style.
Link to hotel web site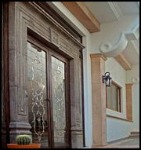 CASA DIONISIO Purchased in 2005, Casa Dionisio has been lovingly restored to celebrate the rich cultural traditions of Mexico. Link to hotel web site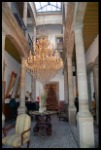 HOTEL LUNA is located in an old building dating from the time of the Porfiriato in Mexico, built in the downtown area of the city. It has been a hotel for more than 100 years and it has received and hosted famous and noteworthy people like Don Porfirio Díaz in 1903, to inaugurate the Theater Juárez. In 1987 Raúl Castillo Venegas took on the project of restoring it to his image of what the building was like in his infancy. It was totally refurbished at this time, filling in the details of that era, giving a hint of duality between ancient and modern, while retaining the originality with which it was created. In October 1994 it reopened its doors with a new image, while respecting its former elegance, and while retaining its original name and identity. Link to hotel web site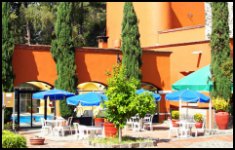 MISION CASA COLORADA The property location is surrounded by history, nature, craftwork, architecture, and gastronomy. Discover a beautiful garden with cactus plants unique to the region, works of art shown in the hotel and its wine cellar and much more. Featuring attractive rooms, and a restaurant, making your business or leisure trips a pleasant experience.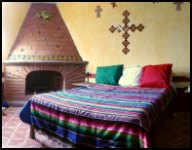 HOSTAL LA CASA DANTE In this hotel you will find a wonderful panoramic view of the city. Note that you will have to climb up or down a long stairway, but you already know that most of Guanajuato requires some climbing. Forget the coffee, biscuits and jams buffets of other hostels. Here you'll find a great Mexican breakfast. As a vegetarian, you will also have several options. email: hospedaje_dante@hotmail.com. Telephone (From US):52 (473) 731-0909. Address: Callejon Zaragoza No 25, Paseo de la Presa, Guanajuato. Link to hotel web site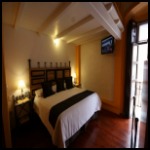 LA CASONA DE DON LUCAS (Mansion of Don Lucas) Plaza de la Paz, where the hotel is situated, lies at the heart of Guanajuato's historical center. Small and uniquely styled, the property is bounded on one side by the Parish Church of our Lady of Guanajuato and is a stone's throw from City Hall, the University of Guanajuato, the Jardín de la Unión, and the famous Juárez Theatre. Built towards the end of the eighteenth century on the orders of Don Juan Vicente Alamán, it is here where in 1792 one of the most brilliant men of the early years of México's independence was born: Don Lucas Alamán. Designed and constructed in the baroque style, this old mansion has recently been restored and converted into an elegant and comfortable hotel. Location:48 Plaza de la Paz, Colonia Centro, Guanajuato. Link to hotel web site


Return to Guanajuato Main Page

Return to San Miguel Main Page

Return from Guanajuato Hotels to Best-of-Mexico-Travel home Page