San Miguel Activities
Are you left with the impression that there is very little to do in San Miguel other than look at historic sites? If you are, then you are wrong ...
... Here on our San Miguel Activities page you will find a variety of activities for people of all ages and levels of fitness ...
San Miguel Activities: Cooking Schools and Classes
A visit to San Miguel would not be complete without exploring the sensual pleasures of our world famous gastronomy. Mexican cuisine, like many around the world, has been passed down from one generation to another. It has gone through different types of inventions, but families with grandmothers, mothers and daughters continue to transfer their knowledge and elaborate on traditional recipes. Home cooking has the basic and sacred elements all the way from Mesoamerica, which has been a great contribution to the rest of the world: corn, beans, nopal, chile, green and red tomatoes, huauzontle, cacao, peanuts, avocados, zucchini, vanilla, amaranth, among others...
Often proclaimed as one of the more popular San Miguel activities ...
Visit our comprehensive listing of San Miguel cooking schools and classes by pressing the link below:
Link to San Miguel Cooking Schools and Classes Page
San Miguel Activities: Tours

San Miguel Activities: WALKING TOUR
On this tour, English-speaking guides walk participants through San Miguel's glorious past, showing them the fascinating historical and cultural city center, its historical buildings and many churches. The tour, which includes an in-depth look at the interior of the Parroquia, takes approximately two hours and covers a ten-block area. Proceeds go to Patronato Pro Niños, a children's charity. Tour leaves from:Centro at the Jardin. Tickets available from 9:45 AM at the Jardin for around $100 pesos per person. Hours: Mon, Wed & Fri - 10:00 AM. Link to Web Site



PERSONALIZED WALKING TOUR
Personalized tours for lover's of Mexico by Helene Kahn. Contact Helene Kahn in San Miguel de Allende. Phone from U.S.: 011 52 (415) 152-0849 Cellular in San Miguel: 044 415 153-5944. Mailing address:Helene Kahn, Apdo. 928, San Miguel de Allende, Gto. México 37700 Email:tours@helenekahn.com Tours: Easy: Around town, viewing historic buildings, churches, market places and plazas with insider information on where to find everything you might need or want while in San Miguel. Moderate: Some hill climbing on this walk, but the views are worth it. You'll see all of San Miguel from a panoramic viewpoint and then wend your way down an ancient, narrow cobblestone path to historic "El Chorro," a natural spring that marks the location of the founding site of San Miguel. Then a stroll through Juarez Park and on to the Instituto Allende and its galleries.



San Miguel Activities: TRAM TOUR - TRANVIA TURISTICO
See the main sights in 1½ hours from the comfort of an original tram. Of the six daily departures, two are bilingual and depart at 10am and 4pm. Address: Plaza Principal 17, 1st floor. Phone:415 154-5408 Price:adult $60 pesos, child $40 pesos.
Link to Web Site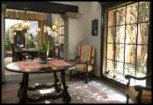 San Miguel Activities: HOUSE AND GARDEN TOUR
An English-language tour of the loveliest private homes and gardens (mostly of expatriates) in San Miguel. Starts at noon every Sunday, leaving from the Biblioteca Pública. There are three different houses visited weekly. Proceeds support the library's activities. Address:Biblioteca Pública Insurgentes 25, Centro. Price for 2-hour tour: $150 pesos.




HIKING AND BIRD WATCHING at El Charco del Ingenio
Jardin Botanico El Charco del Ingenio. This ecological reserve was created to protect and conserve the region's wildlife. Here guides will accompany you along wide routes and trails while hiking or horseback riding. If you like rock climbing, this place has ideal cliffs of varying difficulty levels. El Charco del Ingenio Botanical Garden extends over some 167 acres of nature reserve and is an extraordinary natural monument in a unique scenic area of great biodiversity. The name comes from a spring-fed pool nestled in an impressive canyon, which popular legend has interwoven with spirits and myths dating from the Spanish conquest. Above, the Las Colonias reservoir receives water flowing down from the nearby mountains, which forms permanent wetlands where birds and other wildlife abound. During the rainy season, water overflows the dam, cascading into pools in the wooded depths of the ravine. Among the boulders of the canyon and in the reservoir and surrounding dry scrubland lie vestiges of waterworks and constructions from the past that also give the place special value as a historic site.
Link From San Miguel Activities to Web Site



GENERAL WALKING TOUR at El Charco del Ingenio
GUIDED TOURS Tuesdays and Thursdays at 10 AM in English. Duration:two hours. Price of admission: $80 pesos, members $50 pesos. Link From San Miguel Activities to Web Site



BIRD-WATCHING TOURS at El Charco del Ingenio
Every first and third Wednesday of the month, 9 - 11:30 AM Price:$100 pesos general public, $60 pesos Audubon or El Charco members. Guide:Signe Hammer. The walks are for birders of all levels. They begin at 9:00 AM and last about 2 1/2 hours. No reservations needed, and feel free to leave the walk at any time. Please bring binoculars, wear comfortable walking shoes and a hat, and bring water. Your guide will meet you after you pass through the Reception area of the Botanical Garden.
Link to Web Site



TOUR OF CANADA DE LA VIRGEN ARCHEOLOGICAL SITE AND PYRAMID
Visit the newly opened Cañada de la Virgen pyramid & archaeological zone with guidance by the bilingual & extremely knowledgeable Albert T. Coffee. Coffee is an anthropologist who was invited to work on the pyramid alongside the official INAH investigating team during the 2004 field season. Coffee is also a contributor to the documentation of the wisdom and memories of the elders of the ranch communities around the zone and author of a series of articles in Atención (San Miguel's local Ex-pat weekly) about the Cañada de la Virgen pyramid, site, and the various discoveries made. Link to Web Site


San Miguel Activities: Adventure Tours, Horseback Riding, Hiking and Mountain Biking
Looking for an adventure in San Miguel? ...



... Our San Miguel Adventures page lists many options

Forward to San Miguel Adventures Page


San Miguel Activities: Golf

GOLF - CLUB DE GOLF MALANQUIN
Malanquin Country Club - Private 9 hole golf course in San Miguel. The course is a challenge. It's rolling fairways with a variety of natural obstacles makes the game more interesting and difficult. The contrast between the green fairways and the surrounding desert vegetation gives the player a picturesque vista. The country club also has four clay tennis courts, olympic size swimming pool and a driving range. Members of the Country Club also have privileges at Country Club of Queretaro, the Country Clun of Juriquilla, and the Country Club of Celaya. Contact 152-0516 or Tel/Fax:152-6721



VENTANAS DE SAN MIGUEL GOLF CLUB
A Nick Faldo Championship Golf Course of exceptional design built around a world-class residential golf community. The resort is defined by an outstanding attention to detail through the creation, design and organization reaching a balanced and respectful equilibrium between mother nature, the environment and the existing natural surroundings. The result is a course design and architecture that pays tribute to the magical city of San Miguel, while integrating the most advanced technology. Information and tee-times Phone:154-9394 US/Canada Phone:(520) 829-0558.
San Miguel Activities: Spas, Swimming and Thermal Baths
San Miguel Activities: BALNEARIO ESCONDIDO PLACE
Located 10 km (6 mi) from San Miguel de Allende, off the San Miguel de Allende-Dolores Hidalgo Highway 110. This resort has nine pools, three of which have thermal spring waters. The water temperature ranges from 30º to 40º C (86º to 104º F). This place also offers grass areas, gardens, barbeque grills and a restaurant-bar.



San Miguel Activities: LA GRUTA
La Gruta is set amidst a 12 acre landscaped area with trees, shrubs, bougainvillea, and a little creek running through the property. An outdoor restaurant affords patio dining including service to those lounging in the grassy areas which surround the pools; serving chicken fajitas to cocktails. After paying the $7 US admission fee, walk down a few steps to the changing room where lockers provide security. From there, it's a short walk down to the pools, lawn, and spa area. Three separate outdoor thermal pools offer warm to almost-hot waters for bathers to soak before massage treatments (about $20 US), facials or wraps. A dome-topped thermal pool leads off the warmest pool; inside, a "waterfall" cascades from one wall several times an hour. Located just 15 minutes away from San Miguel Centro, on the road to Dolores Hidalgo. Visitors can take a city bus, drive or take a taxi.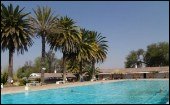 TABOADA RESORT AND THERMAL BATHS
Resort and day entry for thermal baths. Thermal waters from well - odorless, colorless and potable with a natural temperature of 38° C (100.4 F). Picnic grounds with coal burning grills. Link to Web Site



San Miguel Activities: THE MAYAN BATHS
San Miguel's private hot springs baths, sanctuary of 101 degree natural thermal mineral waters where you swim through underground quartz and crystal grottos to outside pools where from high on a hill you gaze at the vast Laja River Valley and the majestic Sierra Madre Mountains. A labyrinth of interconnecting subterranean tunnels and passageways lead to an underground pyramid chamber where you can relax while listening to soothing music before descending into the steamy hot waters. Indulge yourself with a rejuvenating massage in your own underground private room. In the evening, candles light your way through the tunnels to outside pools, the twinkling stars, the moon and the brilliant sweep of the Milky Way. (By reservation Only.) Phone:(English) Gary - Mexico Cell (415) 103-0249 Email: Gary@TheMayanBaths.com Phone: (Español) Laura - (415) 122-2981 - Nextel 92*15*83633 Email: PreciadoLaura@yahoo.com.mx Link to Web Site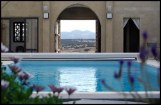 SHANTI - SWIMMING IN AN EXCLUSIVE SETTING
In India, it is said that the guest is a god. And that's how you are made to feel at Shanti San Miguel. Shanti (the Hindi word for "tranquility") is a place to relax, to refresh your body, and to elevate your spirit. Whether you come just to enjoy some of our food (with an emphasis on hearty breakfasts, tantalizing Indian cuisine--and now barbecue on weekends), to try a yoga class, to laze in our heated turquoise pool beneath the brilliant sky, or just to have a great massage and dip into our well stocked book and game room and hang out with your friends. . . Link to Web Site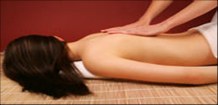 SPA - THE SPA SAN MIGUEL DE ALLENDE
Enjoy first class full Spa treatments for face and body care including: Invigorating Exfoliation, Wraps with herbs (algae, rose petal, extracts in blends of botanical thermal clay), Foot pampering, Reflexology, Full back treatment, Refreshing moisturizing deluxe double mask facials, Aromatherapy and Relaxing or deep tissue body massages. Link to Web Site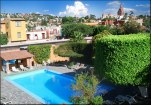 SWIMMING POOL WITH WAITER SERVICE
Posada de la Aldea's swimming pool is open to non-guests most days. Address: Ancha de San Antonio 15 Centro. Phone: 415 152-1022 Price: $50 pesos per person.
Link to web site


Return to San Miguel Main Page

Return to Home Page