San Miguel Art Galleries, Artists, and Art Classes Continued Page 2
Return to Page 1 of San Miguel Art Galleries


JAMES HARVEY ART GALLERY Education 1987 B.A. Painting, Rhode Island School of Design Exhibitions:1987 Woods Gerry Gallery, Senior Invitational, 1987 Virginia Lynch Gallery, Tiverton, RI., 1994 Art of the Northeast Exhibition, Silvermine Guild, New Cannan, CT., 1996 Art of the Northeast Exhibition, Silvermine Guild, New Cannan, CT., 2005 Narrows Gallery, Fall River, MA., 2007 Wheeler Gallery, Providence, RI., Two Person Show: 2008 Galeria de Casa del Diezmo, Celaya, Mexico. Two Person Show: Street: Fabrica la Aurora #9D Telephone: 044 415 100 0450. Email: jamesharveyartist@gmail.com Link to web site


GALERIA GODED Jaime Goded was born in 1945 in Mexico City. He studied film in Prague, sociology in Mexico and mass communications in Paris. He was a head teacher of journalism in the National Autonomous University of Mexico. He has written two books of poetry, one of short stories and several essays on film and mass communications. He has done more than thirty individual exhibitions of his artwork. His work in plastic arts include drawings, paintings, sculptures and art object: watercolors and oils; mobile wooden sculptures and furniture; ceramic pieces and figurines; jigsaw puzzles and plates. He currently works with wood, ceramic, canvas, paper and wire. If you are in San Miguel de Allende, visit Galería Goded where Jaime Goded´s most recent artwork is available. Address:Fabrica la Aurora #4C, Phone:154-4075 Email:jgoded@gmail.com.


HENRY VERMILLION was born in El Paso, Texas, and studied drawing, biology and literature at the University of New Mexico in Albuquerque. He lived and worked in Raleigh, N.C. for 20 years; There he had many one person shows and awards in juried competitions, including the annual N.C. State Museum of Art show. In 1989, he was awarded the prestigious "Raleigh Medal of the Arts" by the City of Raleigh. He was art and theater critic for several Southeastern newspapers. In 1991, he and his artist wife Britt Zaist moved to the old colonial town San Miguel de Allende, Mexico, where they co-founded Galeria Izamal, where he still shows. He has exhibited in galleries in Mexico City, Monterrey, and Puerto Vallarta. His work is in collections in the US, Mexico, Spain, France, and England. He says "I believe it was Da Vinci who said 'The supreme misfortune in art is when theory outstrips performance.'…In spite of the dominant trends in international art over the past 60 years, painting is far from dead. Each new painter has the opportunity and the obligation to re-invent painting, based on the lessons to be learned from past artists and from their own experience of life and of art. It's a tough challenge, but worth the effort." Street: Canal #21 int #110. Phone:154-5409, 152-6171. Cell Phone:044 1 415 119-8262 Email: henryavermillion@yahoo.com Link to web site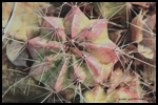 GALERIA IZAMAL is an artists' cooperative gallery founded in San Miguel in 1992. Sales are artist-direct, with no gallery commission, so prices are more than competitive. Member artists include painters and jewelers. Featuring works of: Patricia de Leon, Juan Ezurdia, Javier Gonzales, Javier Garcia, Henry Vermillion, Britt Zaist, and David Godinez.Street: Mesones #80 Phone: 154-5409. Email: galeraizamal@yahoo.com Link to web site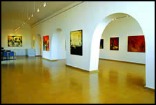 GALERIA PERGOLA is located in the famous Instituto Allende in Centro Specializing in contemporary Mexican art collected from artists throughout Mexico, as well a works by a select group from the U.S., Galeria Pergola sets a high standard offering original paintings, prints, sculpture, photography and more. The site of the Instituto was the 17th century summer home of the Canal familiy, the founders and patrons of San Miguel. In a city that abounds with art galleries, Galería Pérgola is distinctive for its location as well as for the quality of art they exhibit. Galería Pérgola had its beginning in 1951, functioning as the exhibit space for the students and faculty of the prestigious Instituto Allende. In 1953, the gallery was temporarily closed so that legendary Mexican artist Rufino Tamayo could paint his now famous mural "El Hombre." Today after a modern renovation, it is an elegant, light-filled space with high, barrel-vaulted ceilings, featuring a mix of colonial architecture and contemporary flair. As a result, Galería Pérgola is a work of art in itself. The exhibition of paintings, sculpture, and photography offers a brief snapshot of some the finest art being produced in Mexico today. Address: Inside the Instituto Allende, Ancha De San Antonio 20, Centro. Phone:154-5595. U.S. Phone:(214) 245-4902. Gallery Hours:Monday–Saturday 10 AM - 6 PM. Email: info@galeriapergola.com
Link to web site



FRANK GARDNER was born and raised in Poughkeepsie, New York. He graduated from the Rhode Island School of Design in 1986 with a BFA in Painting. A desire to find true inspiration for his paintings eventually led him to Mexico. He has been living in México since 1990 and now resides in San Miguel de Allende with his wife and daughter. Gardner paints on location and in the studio using paintings or sketches done on the spot and or photo references. His style adeptly captures his subjects' moods and emotions, whether it be paintings of dramatic landscapes, colorful marketplaces, or boats in a harbor. The combination of confident brushwork, dynamic compositions and lively color invokes true character in Frank's work. México inspires a large amount of Gardner's paintings. However, traveling and painting is something that he loves to do. "A fresh set of eyes on a new landscape is good for the art spirit." Frank says, "It pushes me in my work with new challenges". Cape Cod is a frequent destination for his painting trips. Other recent locations he has painted include the coasts of Maine, Florida and México. Gardner's work is part of many fine collections across the United States, Mexico, Canada and Europe. Address: Zacateros #75, Telephone:152-2926, 152-6290, Email: frank@frankgardner.com Link to web site



GERARDO RUIZ MALDONADO'S work has been presented in more than 20 individual exhibitions and over 150 collective ones in Mexico and outside his native country. After graduating from the Academy of San Carlos, the National Autonomous University of Mexico (ENAP-UNAM) in the 1970s, he was awarded a scholarship to continue his postgraduate studies in sculpture. He has also received prizes for his work, including "Honorable Mention", in the First National Triennial of Sculpture, 1979 by the INBA in Mexico, D.F. First prize for Design Contest "Playing Educates", 1982 by the UNAM of Mexico, D.F. Selected by the United Nations for the poster design entitled, "By each child, a tree", for the UN Program on the Environment, Sweden Stockholm. His works are included in permanent collections in Mexico and abroad. He has works in institutions such as Patrimonio Universitario (UNAM), Mexico, D.F., National School of Fine Arts(ENAP-UNAM), Xochimilco, D.F. Museum of Contemporary Art, "Sofia Imber", Caracas, Venezuela; Museum of Mexican Prints, Sofia-Bulgaria; University of Valencia, Spain. Address:Fabrica de La Aurora, Casa #4. Phone: 152-6110 from USA: (718) 554-3445. Email: gerardoruizart@gmail.com Link to web site



GALERIA ARTE SACRO Angels & arcangels in various designs, religious desigs, saints, virgins. Hiine Palomino E. San Francisco N 10 INT.23 Zona Centro. Phone from USA:+52 (415) 152-3292. Email: kusycraft@hotmail.com www.galeriasartesacro.com.mx Link to web site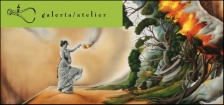 GALERIA ATELIER specializes in the sale of original paintings, drawings, sculpture, and unique sculptural pieces of jewelry as well as fine art, master graphics and limited editions by both national and international artists. A wide range of high quality work is offered across a broad range of styles and subject matter. Featuring works by Alejandro Rivera Leal (San Miguel de Allende, Mexico), Ana Castelán (San Luis Potosi, Mex.), Angelina Perez Ibargüen (San Miguel de Allende, Mexico), Claude Mathey (Paris, France), Edward Osman-Janovcik (USA/Mexico), Eiki (Japan), Manuel Lozano (Leon, Mexico), Marshall Dackert (USA), Patricia de la Parra (Mexico), Peter Levinthal (San Miguel de Allende), (Rodrigo Lara (Queretaro, Mexico), Sam Seaman (UK/Mexico), Victor Cauduro Rojas (Mexico), JEWELRY ARTISTS: Diana Maycotte (Mexico/USA), Mariana Peraza (Mexico). Address:Fabrica la Aurora #1B-3. Phone: 152-0074. Cell Phone: 044 1 415 151-8665. Email: izinser@me.com Link to web site


KEITH KELLER traveling in Mexico stopped in SMA for a day. He had $200 in his pocket. He was on his way home. It was 1985. After settling into his $5 a night room, like most tourists, he found his way to the Jardin. He sat on a bench in the late afternoon sun, looked around, and thought, "this would be a nice place to live." He noticed a little gaggle of girls sitting on the Jardin wall. He pulled out his small sketchpad and started to draw. When he was finished, a man asked him how much he wanted for the drawing. $20 the artist told him, and the man fished out a twenty-dollar bill. Keller's paintings fit no particular genre although he is occasionally compared to the ash can school and social realism schools of the mid-twentieth century in America. Although his subjects vary from bars to wars, he mostly paints women. Keith Keller has been living and painting in Mexico since 1985. His work is in many private and public collections across the continent. Keller has an impeccable understanding of composition and perspective and a wonderful, ironic sense of humor. Keller is also the Director and primary instructor of 'La Escuela', school of painting and drawing. Address:Ancha de San Antonio #27, Centro. Phone:152-0637. Email: keithkellerart@yahoo.com Link to web site



KEITH MILLER is a Canadian artist, formally educated in the arts of drawing and painting - first at Toronto's Ontario College of Art and later at Sheridan College, School of Visual Art. Much of his adult life has been spent abroad. After a long period of travel, he finally settled in San Miguel de Allende. For nearly twenty years, using San Miguel as his base and with occasional forays back to South East Asia, he evolved his own painterly response to the world around him. Intimate and coolly objective at the same time, his realism is both a critical examination of that world and a kind of love affair with it. Whether in the high desert of Mexico or on the southern islands of Thailand, direct observation informs his work. Nature provides the sustenance and the impulse is always to see, to record and to remember. Address: Huertas #4, Phone:152-1467. Email:krm17@hotmail.com Link to web site


KELLY VANDIVER Artist Statement, "How bleak was my puberty! My family moved from town to town due to some scandalous family secrets which eventually caught up with all of us. I learned to cope with the consistent tormenting from my fellow students by spending almost all of my time alone. I read voraciously. I also taught myself to draw. I look back at those early drawings but I do not see even a glimmer of my future life-calling. How bleak was my puberty! College was a huge disappointment. I was kicked out of several classes because I called into question the opinions and skills of my professors . . . My early career was shaped by outside forces and I became a portrait painter. My inner voice was so shy that I didn't even know I had one. Oh, I was having visions but they have wonderful drugs on the market to stop those from happening, now. It took years of teaching art and painting sweet paintings before the spirits finally forced me to quit all the medicine and to sell my house and move out of the country. I am now living in San Miguel de Allende, Mexico, and pursuing my heart's desire. This is a beautiful country that embraces the insane and the artistic with open arms". Address:See website, Phone:152-2123, 154-6229, U.S. Phone:(918) 856-9866. Email: kelley@kelleyvandiver.com Link to web site




KERLEGAND GALLERY Featuring works of: Edgardo Kerlegand, Fidelio Herrera, Juan Diaz-Duran, and Victoria Lynn Pierce. Address:Fabrica la Aurora #6C, Phone:154-8166. Email:info@kerlegand.com; edgardo@kerlegrand.com. Link to web site


CASA DE LA CUESTA Folk Art Gallery is a showplace for Mexican artists and craftspersons. The owners represent a select group of Mexican artisans and artists, and are collectors of Mexican dance masks as well. The gallery is full of original Mexican art and artesania including paintings, indigenous textiles, handmade paper, ceremonial dance masks, handcrafted toys, milagros, ceramics, and more. Artists featured: Natividad Armador, Don Chinda, Humberto Trejo Family, and Blanca Gomez. By Appointment Only: Email: info@casadelacuesta.com. Phone from U.S.:+ 52 415 154-4324.




GALERIA MANUEL CHACON Monday - Saturday 10 AM - 6 PM, Sunday 11 AM - 3 PM, Phone:154-9119, 152-7585. Email:galeriamanuelchacon@yahoo.com.mx
Link to web site



LANE VAN DOREN is a highly sought-after artist who has made a living by producing a variety of artworks in the private and public sector. He often works in collaboration with other design professionals. Lane enjoys the challenge of working in context of existing architecture and natural settings. He transforms the physical environment by connecting human function with natural environment. The end result is a fabrication of distinct architectural accents, sculptural elements, lighting, and art that offer a subtle invitation to pleasure, to treasure, and to delight. See Lane's work at ZOHO Gallery. Hours of operation are from 11 am to 5pm Monday through Saturday. Come visit ZOHO on the first Friday of every month for Fabrica la Aurora's Art Walk, from 6 - 8pm. Address: Fabrica la Aurora #1C. Phone:155-9432. Email:info@zohogallery.com. Link to Web Site


LOTHAR KESTENBAUM STUDIOS Holder of the Chair in Sculpture at the Instituto de Bellas Artes for many years, was, arguably, the finest sculptor ever to have worked in San Miguel de Allende. His sculptures in bronze and marble have been exhibited to acclaim in Europe and the Americas. His works are important parts of collections in Germany, England, Canada, the United States and Mexico. Address: Quebrada #113, Phone:152-1224. Email:maionno@gmail.com Link to web site


LA ESQUINA MEXICAN FOLK TOY MUSEUM A cultural institution devoted to preserve Mexican toys and playful domains. A collection of over 1000 objects was created to permanently exhibit this rustic toy heritage acquired by Angelica Tijerina over the course of 50 years. The toys are considered samples of the artisans' production history in Mexico. The collection is spread over three rooms in which the toys are displayed according to the various regions from which they came and their cultures. Address:Nunez #40, Centro. Phone:152-2602 Hours: Wednesday-Saturday 10AM to 5:30PM and Sunday 10AM to 2:30PM. Link to web site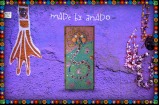 MADE BY ANADO GALLERY Anado McLauchlin, insider artist and creator of inspired outsider art from south of the border. Specializing in beaded jewelry, adorned furniture, assemblage, paintings, bejeweled mirrors, shrines, altars, workshops, and whimsical garden design. Address:On the road Cieneguita km5 (By appointment only). Phone:155-8044. Email:anado@madebyanado.com Link to web site



MAGDIEL PEREZ A long-term resident of San Miguel, Pérez has been a dedicated painter, working in oil based and other natural mediums, for many years. His work demonstrates a notable Mexican quality which can be seen in his drawing style as well as in his use of texture and the tones of his palette. Even so, Pérez's paintings are distinctly personal, non-derivative meditations in which recognizable shapes and forms are presented in an abstract, dream-like environment. In his latest series of paintings, the artist uses the tactile elements of two natural mediums, wax and sand, as the means by which the plastic elements serve as a metaphor for the emotional expression of love. The relationship between wax and sand is very particular and one of sharp contrast. In general, the wax is applied first, then the sand. The magical moment of creation comes when etching into the sand; the outermost layer is broken, discovering the soft wax underneath. Address: Fabrica la Aurora #8D, Phone:154-5898, Email: hmagdiel@hotmail.com; rtefactoria@live.com Link to web site



MAGENTA GALLERY is a contemporary artist cooperative founded in 2005. Featuring an eclectic mix of artists and offering a panorama of techniques, including painting, sculpture, ceramics, nichos, monotypes and prints. Address: Hidalgo #29, Centro. Phone:154-9498. Email:hectoraristo@hotmail.com
Link to web site


Go to San Miguel Art Galleries Page 3

Return to Art Galleries Page 1

Return to San Miguel Main Page

Return from San Miguel Art Galleries to Best of Mexico Travel