Guanajuato At Night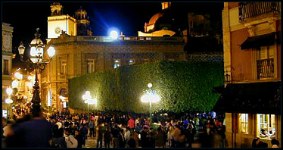 Guanajuato comes to life at night. After your day visiting the museums and historical sights, save some energy to stroll though the Jardin de la Union to stop at one of the sidewalk cafes for a drink or dinner or just to people-watch. Remember this is a university town and its the locals favorite time to be out on the town.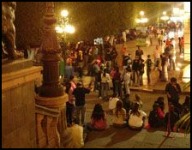 JARDIN DE LA UNION On Thursdays and Sundays at 7:00 PM the plaza comes alive with the music of the local state band. In colonial times, this plaza was called Plaza de San Diego because of its proximity to the convent and church of the Dieguinos. The plaza served as an outdoor market and for all the traditional festivities. At times it was used as a bullfighting ring.
In 1810, the meeting between the Dieguino Belaunzarán and the Count of Flón took place here. The Dieguino demanded in the name of God that the order to behead the Guanajuatan citizens not be carried out.
In 1836, the first of the plazas trees were planted: a row of ash trees. Since the city lacked gardens and walking paths, in 1861 the main garden was planted and paths made all around it with benches and oil street lamps. It officially received the name of Jardín de la Unión, by which it is known to this day. It was also the first place in the city to receive electricity.
The garden's gazebo was built during the presidency of Porfirio Díaz. The Jardín is triangular in shape and quite small, making it easy to find and make friends.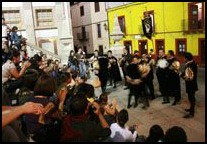 LA ESTUDIANTINAS At the end of 1962, a group of enthusiastic young people discovered the music of the Spanish student minstrels, called the "estudiantina", and they got together to sing their music. Not long after, with the support of university authorities, the Estudiantina of the University of Guanajuato was formed, debuting on April 13, 1963. Today, the city has quite a few student minstrel groups which give performances strolling through the city's narrow streets, and in concerts and serenades.


Return to Guanajuato Main Page

Return to San Miguel Main Page

Return to Best-of-Mexico Home Page