San Miguel Cooking Classes
A visit to San Miguel would not be complete without exploring the sensual pleasures of our world famous gastronomy. Mexican cuisine, like many around the world, has been passed down from one generation to another. It has gone through many levels of evolution, as it has been shared within families between grandmothers, mothers and daughters who continue to transfer their knowledge and elaborate on traditional recipes. Home cooking has the basic and sacred elements all the way from Mesoamerica, which has been a great contribution to the rest of the world: corn, beans, nopal, chile, green and red tomatoes, huauzontle, cacao, peanuts, avocados, zucchini, vanilla, amaranth, among others. Why not bring home a taste of Mexico after you particiapte in one of the classes or schools listed below...


COOKING CLASSES AT CASA LUNA
Limited to 10 participants, but must have a minimum of 6. Includes demonstration and hands-on cooking classes and printed recipes. By reservation only which can be made at Casa Luna (Centro location):Pila Seca #11, between Hernandez Macias and Zacateros. Classes can be held any afternoon or evening by appointment. Vans pick you up in San Miguel centro at 10:30AM to take you to Rancho Casa Luna, located 15 minutes from town. You'll have time to tour the organic gardens, their two greenhouses, visit the animals and admire the vistas. Then the chef will demonstrate techniques and talk about the day's menu. The groups will divide up into teams and each team will have their own kitchen to prepare their part of the meal. At the conclusion, you will have time to return to the gardens to pick your own organic herbs and vegetables for your recipes. Email:info@casaluna.com. International Phone:011 +52 415 152-1117, US number: 1-210-200-8758. The rate of $90/person includes round-trip transportation, class instruction, margaritas, botanans, full meal including dessert, coffee and a packet of recipes to take home. Cancellation policy: If cancelled before 48 hours, no charge. If cancelled within 48 hours of the class, 50% charge.

FERNANDO PADILLA FPG GOURMET
Fernando Padilla - USA/Canada Telephone:011 +52 (415) 151-9490, Local Phone:(415) 185-2131, Cell Phone Number:044 415 151-9490. Address:Centella #34, La Lejona, San Miguel.



FLAVORS OF THE SUN - COOKING CLASSES
World traveler and international cook Victoria Challancin has been teaching cooking in San Miguel de Allende for the last 23 years. She is an expert on local foods: The Flavors of San Miguel (self-published, $18 paper) full of recipes from San Miguel's best eateries. She has had a lifetime affair with history, culture, travel, and food which have provided her with a broad base of knowledge which naturally spills over into both her classes and her talks. In addition to providing solid practical information and recipes, Victoria sprinkles her lively lectures with food anthropology, ethnobotany, a bit of phytochemistry, and Mexican herbal lore. Her cooking classes have been featured on TV and in magazines and newspapers. Address:Claustro #14, San Miguel de Allende. Local Phone:(415) 152-5912. email:flavorsofthesun@gmail.com. Link to web site


HUGH CARPENTER COOKING SCHOOLS - Specific dates for program with limited enrrollment
Next offering: February 5-10, 2012 and February 19-24, 2012. Join Hugh and his wife, Teri Sandison, who have been visiting San Miguel de Allende for years. They know many of San Miguel's artists, writers, gallery owners and townspeople, and have used these contacts to create an "insider's" tour for six days in San Miguel for cooking classes, cultural events, shopping adventures and grand dinners at ancient haciendas. Hugh is your host for every event throughout the week. In addition to this program, which is rich in activities and limited to only 14 people per session, you'll have time to enjoy options such as horseback riding, soaking in thermal springs, exploring the art galleries or just wandering along the cobblestone streets as you relish another surprise around every corner. Reservations:Hugh Carpenter, Camp Napa Culinary, 3960 Hagen Road, Napa, CA, 94558. USA Phone:(707) 252-9773, Toll free phone: (888) 999-HUGH (4844). Link to web site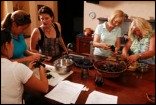 LA COCINA COOKING SCHOOL
Learn about Mexican gastronomy and culture during your stay in San Miguel. La Cocina offers a variety of one day classes dedicated to this rich and varied cuisine. From basic Guacamole to complex Moles, there's a class for everyone. Kristen Rudolph has been giving Mexican cooking classes at her café and elsewhere for many years, but now she has opened La Cocina Cooking School in Colonia San Antonio. Kris generally teaches classes twice a week and also brings in guest chefs to give classes in various aspects of Mexican cooking, such as Oaxacan Cuisine and The Glory of Agave. La Cocina is one of the most popular cooking schools in San Miguel de Allende. Classes are by reservation only. Address:Jesus 23, San Miguel de Allende. USA/Canada Phone:1-888-407-3168, Local Phone/Fax: 011-52-(415)-154-4825 E-mail: culinaryadv@gmail.com.



LA FONDA ROSA
Chef Gabriela Green has been sharing her experience with Mexican flavor with San Miguel for over 10 years. "A native of Mexico City, I acquired my culinary knowledge through family, first my grandmother, then my mother and now myself, strengthening the culinary vocation. Mexican cuisine constantly goes through interventions and reinterpretations. My passion stems from a celebration of inherited traditions. I include a few pre-Hispanic recipes that are still popular like Huazontle en chile pasilla (black pepper), Pork with Achiote (Mayan condiment), nopales, atole; recipes from the time of the Mexican Independence (Sep 16) like Chiles en Nogada from Puebla, along with fish and seafood recipes Veracruz style." Gabriela offers private cooking lessons for you to experience Mexican traditions at the dinner table with her family recipes. Great for individuals, groups and families! Each session lasts 4-5 hours with a special market tour and a hands-on cooking lesson with several courses, as you prepare your very own Mexican comida. You can also attend one of her group classes offered every Wednesday. Link to web site



MEXICAN COOKING VACATION
Three generations of Mexican Cooks created Mexican Cooking Vacation. In a way, these women are reviving IMLE, International Memorable Learning Experience. Founded in 1969 by Maria "YaYa" Marquez (Patricia's mother), this Mexican cooking seminar thrived in Leon and San Miguel for over a decade. IMLE was unique for the time and had a significant historical impact on the popularity and increasing appreciation of good Mexican cooking in the United States. Many US and Canadian renowned food writers and critics passed through the cooking classes in Leon and later San Miguel in YaYa's own kitchen such as: Diana Kennedy, Rick Bayless, and Barbara Hanson. Lead instructor Patricia inherited her mother's interest, delight, and first hand experience in YaYa's kitchen. YaYa appenticed as a young girl in San Miguel's most respected kitchens, learning traditional Mexican dishes. Mónica has a diploma in High Cuisine and has formal studies in gastronomy. Patty, Monica and Maria (YaYa) will host you for a week long cooking vacation where you learn the classic techniques of Mexican cuisine by preparing time-honored and adored recipes, plus some fancy "show-off" dishes! You will stay no more than a pot's throw from the kitchen and classroom. And each day after fixing a SABROSO Mexican breakfast and lunch, you will be wonderfully entertained with a range of culinary outings. Link to web site


PATSY'S PLACE
"I have created a hacienda style kitchen which I happily share with my students and lunch guests. I use the vegetables I grow in my gardens and greenhouse in our cooking adventures. In my introductory classes we will share 4 hours getting to know the basics about Mexican foods. We learn about chile's, nopales, and the use of vegetables in Mexican cooking. And of course we prepare everyone's favorite… guacamole. The classes are completely hands-on and we snack the whole time. After we've eaten and it's time to go, I give you as a gift, printed copies of the recipes we created and enjoyed together that day. Also, for groups of 4 to 6, I organize a series of 3 day classes. This is one of my favorite classes! Here we take day trips to surrounding markets and towns learning all there is to know about Mexican food and culture. This is my opportunity to show you My Mexico… all the colors and textures that create the subtle flavors of Mexico. Coming to my house in the countryside is part of the adventure." Cost is $60 USD per person; either in pesos or dollars or a US personal check. Contact Owners:Patsy Dubois, Local Phone Number:(415) 185-2151, Cellphone Number:044 (415) 153-5303 Address:Road to Delores Hidalgo, 20 minutes north of San Miguel de Allende. Link to web site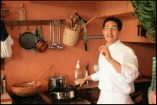 PACO CARDENAS
Originally from Mexico City, Paco has lived in San Miguel for 13 years where he owns and operates one of the finest bakery-patisseries in town, Petit Four. But Paco does a lot more. By appointment, Paco will conduct cooking classes for small groups. It all starts with Paco's tour of the San Miguel de Allende Market where everything you need is sold by the local farmers who grow it. Each Monday morning he leads his group through a tour and shopping in the Mercado for 1 1/2 hours, meeting his favorite vendors, and picking fresh produce to cook. Next you will proceed to a 4 hour hands-on cooking class in his home, preparing Traditional Delicious Mexican Food. End with a delicious full lunch with a glass of wine, enjoying the food you have prepared under Paco's direction and always a delicious dessert! Reservations and 50% deposit can be paid in advance at El Petit Four - Mesones 99, Centro. Email: pacopos3@yahoo.com. Link to government web site



THE SAZON
Sazon is a Mexican cooking school and boutique housed in a magnificent 18th century casa in the heart of San Miguel de Allende. Sazon runs a number of acclaimed cookery courses, covering the different forms of Mexican cuisine, including traditional regional specialities and some of the more modern favorites. Classes are taught by in-house chefs, who have years of experience creating delicate dishes with the robust flavors that Mexican cuisine is famed for. Located in Casa de Sierra Nevada Hotel, Hospicio 42, San Miguel de Allende. International Phone:+52 (415) 152-7040 or US Toll Free:(800) 701-1561 Fax:+52 (415) 154-9703 Email: mail@casadesierranevada.com Link to web site


TRADITIONAL MEXICAN COOKING
Marilau Ricaud welcomes you to 200 years of Mexican traditions. "I love sharing my heritage of classical Mexican home cooking with my students. From my earliest years I watched my mother, my aunts and my grandparents in the kitchen. I'm happy to design an intensive one-on-one session or series of classes for you or if you'd rather be part of a group, we can arrange that too. I take pride in customizing my classes to suit the needs of all students in my well-equipped kitchen classroom, with a maximum of 10 students per class to insure individualized attention to each." Email: classinfo@marilau.com. Telephone:From USA/Canada:011 +52 (415) 152-4376, Inside Mexico:01 (415) 152-4376. Local from San Miguel de Allende:152-4376. Address:Calle de La Luz # 12, Colonia San Antonio, San Miguel de Allende. Link to web site


Return to San Miguel Activities

Return to San Miguel Main Page

Return to Best of Mexico Travel Home Page