San Miguel Restaurants Page 2 Continued
Whether its tortilla soup or chiles en nogada, everyone has a favorite Mexican dish and dining out is one of the great pleasures of a visit to San Miguel. There are over 250 registered restaurants in San Miguel and there is no way we could or would want to cover them all. Let's just say there is something for every taste and budget . . . and after looking at our summaries and links to these restaurants, you will see that there is a widespread diversity of cuisines.
If we've left out your favorite, we'll give you a chance later on to express your opinion and maybe change ours. The following brief summaries are being presented in alphabetical order with links to the individual restaurant web sites (where available) to give you a close-up look. Some even have their menus available for you to peruse on-line. When we've completed the construction of the web site, we will also provide our own designated categories and you will be able to search by rating.




NIRVANA RESTAURANT
A country retreat nestled among century-old mesquite, acacias and cacti, on the banks of the Laja River. Located in the historic World Heritage site and colonial village of Atontonilco, just 15 minutes from San Miguel. Emphasis on holistic well-being of body and mind. Renowned chef Juan Carlos Escalante hosts you in his fabulous on-site restaurant. Phone:185-2194. Email:ventas@nirvanarestaurantretreat.com.



OKO NOODLE BAR
Located in a mall, just on the outskirts of town, thus making parking easy, a rarity in San Miguel. Wonderful place with a nice variety of Asian Dishes, half Thai and half Vietnamese. Reasonable prices, and the food is fresh, not too spicy and reliable. The posters are really interesting, particularly if you take an interest in political commentary. Really cool martini drinks worth trying out. Chef Aldo makes incredible seared tuna. It's a friendly place. Who would ever think of eating Asian food in Mexico? Go...it's worth the short drive or taxi. Hours:Mon-Sat l2:00 Noon-l0:00 PM. Closed-Sunday. Located in Plaza Alhondiga, Carretera a Celaya. Phone:110-3283.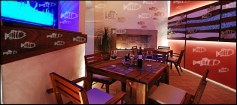 PASCAU
One of our favorite eateries in San Miguel - consistently reliable and affordable. A special place with an excellent selection of fresh fish and seafood in a nautical atmosphere. Integration of contemporary and colonial architectural design. Address:Jesus #21, Centro. Phone:152-8800.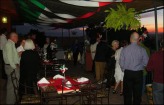 SICILIA EN BOCA
Italian with everything being fresh and homemade pasta. Relaxed ambiance and incredible view over the town from the patio. The wait staff is attentive without being intrusive, and the personal attention of the owner/chef ensures that it will be more an experience than just a meal. Address:Salida a Queretaro 91. Phone:152-0406. Open:Tuesday - Sunday. Hours:1:00 pm-10:00 pm.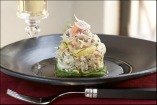 THE RESTAURANT
Another of our favorites ... Seasonal menu featuring global comfort food. Chef-driven, changing menu featuring local products from nearby organic growers, ranchers and dairy farmers. Chef Donnie Masterton says, "Keep it fresh, keep it local, keep it organic, keep it real, and keep it simple." Dinner 6PM to 10PM Tuesday-Saturday. Reservations recommended. Address: Sollano 16, Centro Historical District. Local Phone:(415) 154-7862. U.S. Phone:(213) 471-2833. Email:info@therestaurantsanmiguel.com. Link to web site


Return to Page 1 of San Miguel Restaurants

Return to San Miguel Main Page

Return to Best of Mexico Travel Home Page